Rosie Raja: Churchill's Spy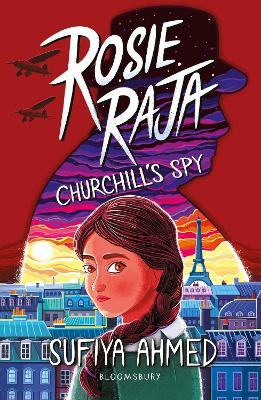 By Author / Illustrator
Sufiya Ahmed
Genre
Historical Fiction
Age range(s)
9+
Publisher
Bloomsbury Publishing PLC
ISBN
9781801990059
Format
Paperback / softback
Published
04-08-2022
Synopsis
A thrilling and empowering WWII adventure about the French resistance and their British allies, with a determined, Muslim heroine. Perfect for fans of Michael Morpurgo and Emma Carroll, and those looking for diverse historical fiction.July, 1941. Rosina Raja is half-Indian and half-English. She has always lived in India, so when her mother passes away and she moves to England (where it rains all the time) she is miserable and doesn't have any friends. Life changes dramatically for Rosie when she discovers that her army captain father is actually a spy for the British government. She can't bear to be left behind so she stows away in his plane. Finding herself in occupied France, Rosie is soon drawn into the struggle against the Nazis. With new allies and new enemies at every turn, she must help her father complete his mission, and more importantly... make sure they both get home alive.
Find out more in this Q&A with author Sufiya Ahmed
Reviews
Linda
If you're looking for a thrilling read, packed with historical information and a diverse range of characters, then look no further than Rosie Raja: Churchill's Spy. This offering from Sufiya Ahmed is fast paced, unpredictable and filled with genuine peril.
Set during the Second World War, it provides a positive representation of women and highlights the often overlooked role of people of different ethnicities, religions and backgrounds during the conflict. The protagonist, Rosina Raja, is a feisty half English, half Indian princess. Fed up with being left alone by her often absent father, she decides to take matters into her own hands and stows away in his plane to occupied France. Here she finds herself surrounded by secrets, lies and spies.
This book raises some brilliant discussion points regarding the role of women in war, the Indian independence movement, the actions of those in British empire, and the WWII conflict itself. It would be perfect to read alongside a study of WWII for pupils in Year 5 and above.
224 pages / Reviewed by Linda Canning, teacher
Suggested Reading Age 9+
Sue
Half-Indian, half-English, Rosina has had to move to England where she is miserable. Her father took her from India when her mother died and she misses the palace she lived in and her aunt, Rani-K, the queen of their kingdom. Things take a dramatic turn when Rosie learns that her father is a spy for the British government and she stows away on a plane to be with him. Finding herself in Nazi occupied France, Rosie needs to be on her guard if she is to help her father with his mission - and survive.
Courageous and loyal, Rosie is an excellent heroine. Left reeling by her mother's death and angry and confused by her father's apparent lack of grief and concern for her wishes, Rosie is determined to find out what he is doing, launching herself into the heart of danger. Smart and capable, she is keen to learn the 'skills' of spying and quick to take action when needed.
Rosie Raja Churchill's Spy does not shy away from some of the harsh realities of life in occupied France, exploring the role of the resistance and the risks they faced in opposing the Nazis. There is tragedy within the unit Rosie's father is leading and tough decisions have to be made, considering 'the greater good'. Rosie's mixed heritage of her Indian mother and English father also introduces the role of the British Raj in India, the struggle for independence and Gandhi's non-violent teachings, sure to encourage readers to further investigate this part of history.
I wonder whether the final version of the book might include some suggested reading material as there is so much to learn from (as well as enjoy in) this story. I believe this is the first in a series of adventures for Rosie and I look forward to seeing what she gets up to next!  Recommended for ages 10+.
224 Pages / Reviewed by Sue Wilsher, teacher 
Suggested Reading Age 11+
Other titles