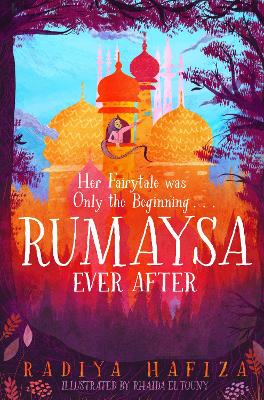 By Author / Illustrator
Radiya Hafiza, Rhaida El Touny
Genre
Fairy Tales & Folk Tales
Age range(s)
9+
Publisher
Pan Macmillan
ISBN
9781529091311
Format
Paperback / softback
Published
28-04-2022
Synopsis
Return to a Once Upon a Time where anything is possible . . . Rumaysa: Ever After is the enchanting sequel to Radiya Hafiza's Rumaysa: A Fairytale - a gorgeously empowering and funny story that spins the classic fairytale to show that anyone can be a hero.

Mirror, mirror, on the wall, who's the fiercest one of all?   Ever since she escaped her tower, Rumaysa has been searching the land, far and wide, determined to find her long lost parents. But after she receives a mysterious invitation from Saira White, Queen of Bishnara, she is soon pulled into a dark, magical adventure, that threatens her own happily ever after. . .

This eagerly anticipated sequel to Rumaysa: A Fairytale enchantingly intertwines traditional stories of Princesses, Princes, Witches and Beasts with a fresh and empowering perspective, beautifully illustrated by Rhaida El Touny.
Video & Q&A with author Radiya Hafiza
Reviews
Jacqueline
She's back! The rather magical, hijab wearing heroine Rumaysa returns in this hotly anticipated sequel. Still looking for her parents (she was taken away by an evil witch as a baby and locked in a tower) and still in the realm of almost familiar fairy tales with a twist. This time the book is not separated into three linked stories as before, but instead the one tale includes a Snow White variation and other familiar but different stories too.
Summoned by Saira White, Queen of Bishnara, Rumaysa is drawn into a dark new adventure, that may well put paid to her ever finding her parents. As with the first story, these books are aimed at a higher age group than might normally read a fairy-tale and this allows for a satisfying degree of tension and threat. Rumaysa's magic necklace leads her to 'whoever needs her help the most' and it is not necessarily the way Rumaysa wishes to go.  This time Saira White has already defeated the evil stepmother - hence being Queen, and it is a continuation of her story rather than an alternative version and this adds to the story as you cannot guess the outcome.
Once again, the book is illustrated by Rhaida El Touny and the illustrations are part of the charm of the story. They seem to capture the events and the characters using simple line drawings and the cover is also magnificent.
Radiya Hafiza wrote the sequel because there was much clamouring for her to do so and it is a satisfying conclusion to Rumaysa's tale. Anyone who enjoyed the first story will enjoy the differences and the continuations in this one.
256 pages / Reviewed by Jacqueline Harris, teacher
Suggested Reading Age 9+
Elen
In this hugely entertaining follow-up to Radiya Hafiza's Rumaysa: A Fairytale, Rumaysa is seeking her own 'happily ever after' in the hunt for her parents, who she was stolen from as a baby. While all she wants to do is to find her home, during her travels, Rumaysa's help is sought from a variety of people needing a lending hand, and Rumaysa finds it hard to turn down any requests.  The background world - a fairytale version of Asia - continues to intrigue in this sequel, with landscapes and magical creatures described and evil witches and beasts overcome.
Rumaysa's challenging journeying as a solitary girl is portrayed as both empowering and forbidden; young women are not expected to be independent and resourceful. Rumaysa takes most things in her stride and is a powerful role model for readers aged eight years plus that they have it in themselves to follow their path and change their world. 
Rumaysa: Ever After is action-packed, with Rumaysa variously helping out powerful leaders or escaping from them, all the while bent on her eventual goal, to find her own family and her true place in her community and her world. While there are one or two dark moments in this story of a lost child and grieving parents, the reader is drawn forward by Rumaysa's belief that she will, one day, find them.
This is a wonderful adventure to add to your child's book shelves, giving a glimpse into another culture and a reminder to young readers that heroines come from all kinds of backgrounds and communities.  While Rumaysa: Ever After can stand on its own, readers would definitely benefit from reading the first excellent book, Rumaysa: A Fairytale, before heading into this adventure.
256 pages / Reviewed by Elen Green
Suggested Reading Age 7+
Other titles