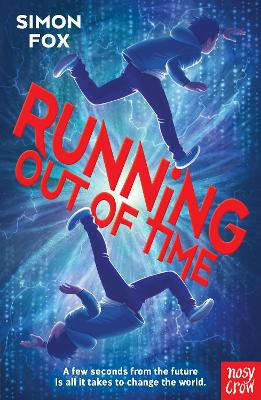 By Author / Illustrator
Simon Fox
Genre
Suspense & Thrillers
Age range(s)
11+
Publisher
Nosy Crow Ltd
ISBN
9781839944390
Format
Paperback / softback
Published
04-08-2022
Synopsis
A thrilling, unputdownable debut, with extraordinary twists and incredible action, from an incredible new voice in children's fiction.
'I can steal time.The most I can take at the moment is fifteen seconds, which is not a lot. Grandmother took almost three minutes once and she told me she's done more, but I never saw it.She says there are stories of someone who can take all the time in the world, but how can that be right?'
When Alex and his father are forced to flee their home to escape a brutal government, they begin a life-threatening journey across Europe. But when they are separated before they can reach Britain, Alex finds himself alone, with only his extraordinary gift to keep him alive.
Perfect for fans of Alex Rider, Artemis Fowl, and Inception, Running out of Time is an ingenious, high-concept thriller with a twist that you won't believe.
Find out more from author Simon Fox
Reviews
Jane
Before fleeing their home, Dad tells 14-year-old Alex "this isn't a war for the brave, it's a war for the clever. Because we are up against an enemy who won't let us tell anyone what is happening". He has been gathering evidence so that the world will know the truth about his country's treatment of his people, and is stressed enough about capture without having to worry about Alex using his 'gift' - he can see ahead in time.  So Alex must practice his gift in secret until his father finally relents, trusting him to make the final life or death decisions on their journey across Europe to hoped-for freedom in the UK.
In the sordid world of people trafficking, trusting anyone carries huge risk and navigating safe passage seems impossible. It helps to see what others can't; to see how events pan out before they happen and thus make different choices that have better consequences. Alex cannot be sure whether or not those better consequences will make things worse for others, but he can tell who is to be trusted and the right moment to run, to hide, to speak.
For undercover policewoman, Rachel; for Hayley, her daughter; for Ronnie, Max, Stripes and the Head of UK Border Force, Alex's growing proficiency at stealing time may determine not just the course of their operations, but their very lives.
I was gripped by Running Out of Time which has such a contemporary feel, yet manages to employ an element of science-fiction so effectively. Highly recommended for Year 6 (or mature Year 5s) and above. There is violence (and guns do feature), but its description is judicious.
304 Pages / Reviewed by Jane, school librarian
Suggested Reading Age 11+
Other titles