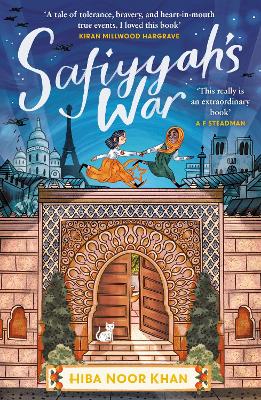 By Author / Illustrator
Hiba Noor Khan
Genre
Historical Fiction
Age range(s)
9+
Publisher
Andersen Press Ltd
ISBN
9781839133138
Format
Paperback / softback
Published
06-07-2023
Synopsis
War comes to the streets of Paris and Safiyyah's life changes for ever. Her best friend's family have fled, and the bombing makes her afraid to leave the mosque where she lives. But when her father is arrested by the Nazis for his secret Resistance work, it falls to Safiyyah to run the dangerous errands around the city. It's not long before hundreds of persecuted Jews seek sanctuary at the mosque. Can Safiyyah find the courage to enter the treacherous catacombs under Paris and lead the Jews to safety?
'Safiyyah's War has the soul of a classic & the urgency of a story for our times. A tale of tolerance, unthinkable bravery, and heart-in-mouth true events. I loved this book' - Kiran Millwood Hargrave.  'All at once, Safiyyah's War broke my heart and filled me with immense hope. With its unforgettable characters and exquisite storytelling, this really is an extraordinary book' - A F Steadman.  'Safiyyah is a protagonist I was rooting for all throughout; a lovely, kind-hearted girl whose story filled me in turns with despair and joy. This book shines through with kindness and empathy at its very heart' - Nizrana Farook.  
Reviews
Julie
Set in Paris at the beginning of WWII, we are introduced to our protagonist and narrator, Safiyyah. Tensions are rising across the city as people are nervous and worried about the imminent invasion of France by Nazi Germany. Saffiyah is a bright, happy girl who enjoys playing with her friends and visiting the local library. She and her family live in the apartments of the local mosque. She has a loving, close family who care for each other and care for people in their local, wider community.
As the prospect of the invasion becomes evermore real Saffiyah begins to see her close friends and school mates begin to flee from the city to safer countries. However, for Saffiyah and her family this is not an option. As the city is bombed and war comes to the streets of Paris, Saffiyah's world is completely turned upside down. As she leans on her family and her faith to help her through the darkest of times, her family, too, feel that they need to help those in greater need. So, her father begins to work with the local Resistance to help the Jewish community. But when her father is arrested by the Nazis, it is left to Saffiyah to help keep the life-saving resistance work alive. As the persecution of Jewish people intensifies it is not long before the mosque becomes a sanctuary and an escape route for hundreds of people. But how long can Saffiyah, her family and friends maintain the escape routes without being caught and punished?
Safiyyah's War is a work of fiction, however, Hiba Noor Khan's novel is based on fact and the role that the Grand Mosque of Paris played in saving Jewish people during World War II. This is an important book that is told from the perspective of a young, Muslim girl and her family who must try to live and survive during the Nazi occupation. The repercussions and consequences that war has on a young person and her family are devastating.  As you read the novel, you are in constant fear that the family and Saffiyah will be discovered and the ever-imminent danger that she and her family face is palpable.
Saffiyah is such a wonderful character. Through her eyes we see and experience all that life and humanity are during a time of war. We understand the fear that she feels the first time she encounters a Nazi soldier on the street. How upset she is when her cousin enlists to go off and fight. The helplessness she feels at the injustices she sees on how her neighbours and friends are treated because they are Jewish. The ever-present danger and fear that occupied peoples face on a daily basis. However, we also see how resilient she is. How brave she is during times of adversity and how kind and caring she is.
We also understand how important her faith and community are. The strength of love and compassion that her family shows permeate throughout the novel. For those who enjoy historical fiction and books set during World War II, this book is an absolute must read!
336 pages / Reviewed by Julie Broadbent, school librarian
Suggested Reading Age 9+
Other titles