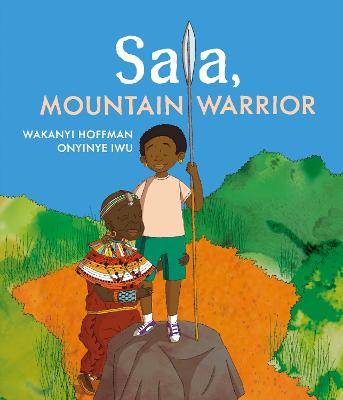 By Author / Illustrator
Wakanyi Hoffman, Onyinye Iwu
Genre
Personal Growth
Age range(s)
5+
Publisher
Otter-Barry Books Ltd
ISBN
9781915659064
Format
Hardback
Published
13-07-2023
Synopsis
There's a school trip to climb the mountain near Sala's home and she's excited - but nervous too, because she's the only girl to take the challenge....  But Grandmother shows the way, inspiring Sala with her mountain lore, her special beads and her storytelling.  Can Sala climb to the top of the mountain and be the first warrior girl of her clan?
Set in the Samburu region of northern Kenya, this is an exciting, inspirational story about courage and empowerment.
Reviews
Wendy
Sala, Mountain Warrior is a lovely picture book which tells a great story of girl power. Sala loves listening to her grandma's tales of their family and homeland, which she uses the colourful wooden beads on her necklace to remind her of. Sala is excited to learn that there is to be a school trip to climb a mountain near her Grandma's village. At first, she is put off by the fact only the boys want to go - they tell her girls can't climb mountains. Sala confides in her grandma, who gives her the courage to take part and Sala perseveres through the climb, becoming the first student to reach the summit. She is given a wooden bead by their guide to mark her achievement, which she passes on to her Grandma. Sala is proud to become part of her grandma's stories!
This is a lovely book which captures a culture and landscape so warm and inviting that children will be instantly drawn in. The text is clear and the language accessible for children to read independently. Highly recommended for any classroom bookshelf.
Picture book / Reviewed by Wendy Kelly, teacher
Suggested Reading Age 5+
Other titles