Santa's Christmas Countdown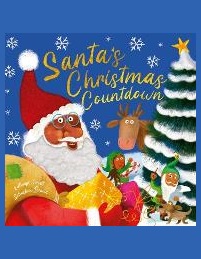 By Author / Illustrator
Kath Jewitt, Sebastien Braun
Genre
Baby & Toddler Books
Publisher
Townhouse Publishing Ltd
ISBN
9781915356024
Format
Board book
Published
01-10-2022
Synopsis
Santa is getting ready for Christmas Eve, but he's lost his list of jobs to do! This large format board book tells a fun rhyming tale of Santa who is getting ready to deliver presents around the world. Toddlers will love the large touch and feels, especially his curly beard and velvet hat.
Featuring a black Santa, a much-needed figure in children's Christmas book publishing
A large format cased board book
Lots of touch and feel areas for extra sensory touches
Fun rhyming text
A feel-good Christmas gift embracing diversity
Reviews
Jessica
I blame this book for the Christmas excitement in my house! We now already have a Christmas book out that can't possibly be put away! Award-winning illustrator Sebastien Braun, who has previously teamed up with highly acclaimed author Julia Donaldson, has brought us an early Christmas present. You may have recently enjoyed his comical Halloween story 'Spinderella', but now we are thrust into the Christmas spirit. We experience the mad rush of Christmas Eve as Santa's ever-reliable 'to do' list has gone missing! Can you help him remember what needs doing to make sure the countdown to Christmas runs smoothly? …That's if you can get past the extremely realistic beard on the front cover which has had me and my baby twizzling our fingers through for some time!
The illustrations are absolutely full of fun, character and that ever-familiar (somewhat) organised mess that Christmas Eve so commonly brings. Sebastien Braun is well known for adding depth and detail to each page, encouraging children to further investigate what is happening. The added 'touch & feel' element to this book brings yet more to explore. We see a welcomed diversity brought to the Christmas characters as well as an assortment of outfits from Santa himself all in a range of different material. Who knew Santa had such a varied wardrobe?
As the book ends, my little one's hands flip it straight back to the beginning to experience the rhythmic Christmas fun all over again! I have no doubt that your children will love this countdown to Christmas too.
Suggested Reading Age 0+
Other titles