Secret Princesses: The Magic Necklace - Bumper Special Book!: Book 1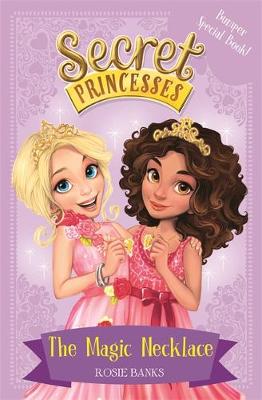 By Author / Illustrator
Rosie Banks
Genre
Adventure
Age range(s)
5+
Publisher
Hachette Children's Group
ISBN
9781408336083
Format
Paperback / softback
Published
30-06-2016
Synopsis
A gorgeous new series about magical princesses and best friends. Book one is a special long adventure for even more magical fun!

Best friends Charlotte and Mia can't bear it when Charlotte's family moves far away. But when they're given magic necklaces, they begin an amazing adventure together - and they can see each other whenever they like!

When their magic necklaces whisk them to Wishing Star Palace, Charlotte and Mia meet the Secret Princesses, magical princesses who make wishes come true for girls just like them. Best of all, Charlotte and Mia have what it takes to become Secret Princesses themselves!

But when the girls go to grant their first wish they're in for a nasty surprise - horrid Princess Poison is determined to stop the wish from coming true...

Can Charlotte and Mia grant Olivia's wish and save Wishing Star Palace?

Plus...
* Special campaign with Monsoon Children's - win the same princess outfits as Charlotte and Mia for you and your best friend!
* Collect the tokens for a exclusive Best Friends necklace designed by Monsoon!
Reviews
Sarah-Louise
I was never a 'girly' girl, choosing to spend my childhood playing with boys toys and reading scary stories. So when I received this book I groaned. However I was pleasantly surprised the instant I chose to really look at it. The cover is very pretty, the animated characters and bright colours are eye catching. The blurb is basic but succinct. It's also noted that it shows this as being the start of a series so it aims to hook fans into reading more than just the one title. The plot is about two best friends who are suddenly and sadly separated when one of them is forced to move to the other side of the world with her family. Magic soon reunites them when a special necklace (of which they are each given half) invokes a spell that takes them to a magical world where they are both welcomed as 'princesses in training'. The pair join a group of super cool teenage princesses who each have specialties. However, their magical world is under threat from a rogue princess, the nasty Princess Poison. The only way to save their world is to take up a mission to help people in the real world and stop Princess Poison from ruining both worlds completely. The plot moved fairly quickly and the writing style was wonderfully simple, allowing me to 'devour' the book in little time at all. The only downside was a lack in the range of vocabulary. However, this was not necessarily a bad thing, as this would be enticing for more reluctant and first time independent readers. I think this book would be ideal for 6-8 year olds (girls in particular) who have just started independent reading. A great way in for reluctant readers!
Suggested Reading Age 5+
Other titles