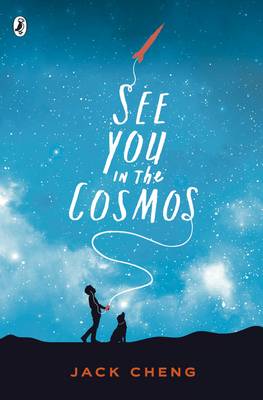 By Author / Illustrator
Jack Cheng
Genre
Adventure
Age range(s)
9+
Publisher
Penguin Random House Children's UK
ISBN
9780141365602
Format
Paperback / softback
Published
02-03-2017
Synopsis
'I haven't read anything that has moved me this much since Wonder' Jennifer Niven

An astonishingly moving middle-grade debut about a space-obsessed boy's quest for family and home.

All eleven-year old Alex wants is to launch his iPod into space. With a series of audio recordings, he will show other lifeforms out in the cosmos what life on Earth, his Earth, is really like.

But for a boy with a long-dead dad, a troubled mum, and a mostly-not-around brother, Alex struggles with the big questions.

Where do I come from? Who's out there? And, above all, How can I be brave?

Determined to find the answers, Alex sets out on a remarkable road trip that will turn his whole world upside down . . .

For fans of Wonder and The Curious Incident of the Dog in the Night-Time, Jack Cheng's debut is full of joy, optimism, determination, and unbelievable heart. To read the first page is to fall in love with Alex and his view of our big, beautiful, complicated world. To read the last is to know he and his story will stay with you a long, long time.
Reviews
Natalie
This interesting debut novel is largely narrated by Alex Petroski, an 11 year old boy who is a budding rocket scientist. Following in the footsteps of his hero, Carl Sagan, after whom he named his dog, he creates a Golden iPod full of different sounds that he has recorded. Like Sagan, whose Golden Record was launched on the Voyager spacecraft in 1973, Alex aims to launch his recording on his very own handmade rocket at a big rocket festival in New Mexico. Each chapter takes the form of a single recording that Alex (and occasionally one of his companions) makes onto the iPod as they narrate what is happening at that moment. Alex believes that he is explaining his world to another lifeform and so he constantly tries to provide definitions for sayings and proverbs or reasons for somebody's behaviour. This can be endearing but also sometimes a bit irritating as well. The reliability of Alex as our narrator is an interesting element of the book. His age, naivety, and the way his trusting nature changes as he begins to question what people are telling him, colours what information he shares with us regarding his background and the events that occur on his road trip across America. We are left with many gaps in the details as he oversimplifies or underplays the true nature of his role as sole carer for his depressive mentally ill mother, or just how absent his 'mostly-not-around brother' is. His bravery, independence, determination, and naivety make him an intriguing character but I found the way he travelled, via train, alone from his home in Colorado to the rocket festival in New Mexico - with no real setbacks or threats - quite worrying. Everybody he meets is sincere, kind, and looks after him. It doesn't seem to occur to him that not everybody would be so unthreatening. I find the concept of the book's dual audience intriguing. Alex is commentating on events to his primary audience of the aliens who he thinks will listen to the recording and throughout he compares them to the people he meets. He asks how the aliens sleep, cry, or what senses they have. This encourages the secondary audience (us) to consider these things in our own nature but also imagine what the alien lifeform could be like. This is a poignant, and funny story where the diverse landscapes of Colorado, New Mexico, Las Vegas, and Los Angeles are evocative and a whole range of topics such as being a child carer, schizophrenia, depression, and so on are covered in a sympathetic and engaging manner. 320 pages / Ages 9+ / Reviewed by Natalie Plimmer, librarian.
Suggested Reading Age 9+
Other titles