Selfies With Komodos: Poems by by Brian Moses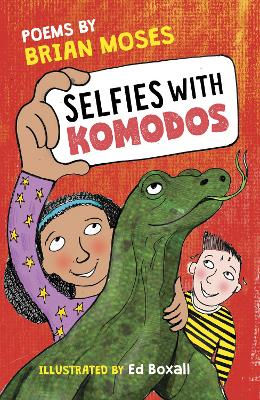 By Author / Illustrator
Brian Moses, Ed Boxall
Genre
Poetry
Age range(s)
7+
Publisher
Otter-Barry Books Ltd
ISBN
9781913074098
Format
Paperback / softback
Published
19-01-2023
Synopsis
Oh, Komodo, no, Komodo,
if what I hear is true,
nothing but another Komodo
should risk getting close to you!
Every day is an adventure in this brilliant, eagerly awaited collection from one of the UK's best loved poets. Find cats, dogs and dragons, a rock'n'roll iguana and the Rescue Centre for Mythical Beasts. Take the night train to Transylvania, learn to fly or send a postcard from Pluto - but never take a selfie with a Komodo!
Reviews
Wendy
Selfies With Komodos is a fab little book of new poems from the well-known poet Brian Moses. There are poems about dogs and cats, mythical creatures, journeys on night trains and vampire facials! A very eclectic mix, but one that works around a collective theme of imagination.
The poems are written to be performed, or read aloud at the very least; there is a rhythm and unexpected rhyme that make them both pleasing to recite, and to listen to. Squarely aimed at junior children, this collection is accessible to those who find longer texts a challenge, those who 'don't like' poetry and also those children who have a sophisticated grasp of word play - they will adore the little nuggets of playful language-use that sparkle like diamonds through this collection.
The illustrations are appealing; cartoony and curious and very easily imitated by budding poets who want to illustrate this own poems. An indispensable addition to a classroom bookshelf or school library, as part of a poetry collection - this book is sure to become a firm favourite very quickly.
96 pages / Reviewed by Wendy, teacher
Suggested Reading Age 7+
Other titles