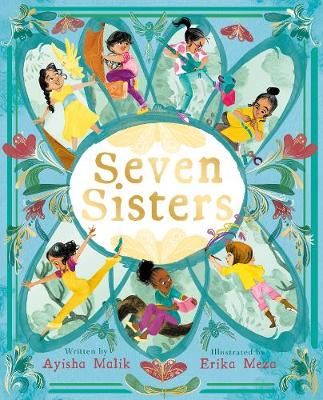 By Author / Illustrator
Ayisha Malik, illus Erika Meza
Genre
Friends and family
Age range(s)
7+
Publisher
Little Tiger Press Group
ISBN
9781788952095
Format
Hardback
Published
05-08-2021
Synopsis
High up in the trees seven sisters swing, swoop and swirl - each totally different and brilliant in their own way. The treetops are full of music, colour and life!  Until one day the ground trembles and the trees shake. Something is changing... An enchanting story celebrating difference and creativity by Ayisha Malik, with stunning illustrations from Erika Meza.
Reviews
Carol
Seven sisters live in a tree. They are all very different, often bickering, and do not always tolerate their differences. When a perilous storm destroys their homes they learn that they need each other to rebuild their homes and live alongside each other accepting their differences. They bring life, music, colour and happiness to their new community.
I was excited about this longer picture book story as it will appeal to children across several year groups. I would suggest Year 3 to Year 6. There are many opportunities to use this book across the curriculum. It could be used as an end of day, read aloud just for the sheer joy of the characters, story and magnificent illustrations. In PSHE lessons, it could be used to explore differences and diversity as the sisters are all so very different in their personalities and interests. For younger readers it has the opportunity to use the illustrations and interactions of the characters to explore facial expressions and feelings. This would also work for children needing more targeted focus on feelings and accepting others.
64 pages / Reviewed by Carol Wright, school librarian
Suggested Reading Age 7+
Megan
Seven Sisters is a book that tells the tale of seven very different sisters who live in the Forest of Tremendous Trees. Each sister has a different interest, ranging from art and painting to engineering. The sisters live harmoniously until one day when a new enormous, beautiful tree grew. Each sister believes they deserve to be the one to live in the new tree, which causes many arguments and disagreements. However, a change in weather causes the seven girls to re-evaluate what is important in life.
Seven Sisters is a longer picture book, well suited to ages 7+. The story teaches many morals, focusing mainly on friendship and fairness. The illustrations accompany the words beautifully and help to bring life to the world of the seven sisters. Seven Sisters would make a great book for PSHE lessons surrounding friendship and equality.
64 pages / Reviewed by Megan Webb, teacher
Suggested Reading Age 7+
Other titles