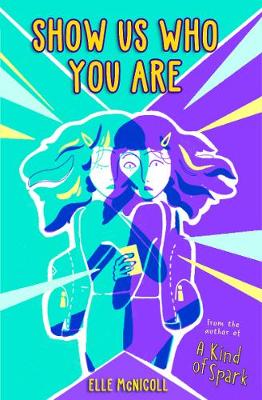 By Author / Illustrator
Elle McNicoll
Genre
Mystery & Detective
Age range(s)
9+
Publisher
Knights Of Media
ISBN
9781913311131
Format
Paperback / softback
Published
04-03-2021
Synopsis
The second book from the author of A Kind Of Spark, with Neurodivergent characters you'll root for and a moving friendship at its heart.  When Cora's brother drags her along to his boss's house, she doesn't expect to strike up a friendship with Adrien, son of the intimidating CEO of Pomegranate Technologies. As she becomes part of Adrien's life, she is also drawn into the mysterious projects at Pomegranate. At first, she's intrigued by them - Pomegranate is using AI to recreate real people in hologram form. As she digs deeper, however, she uncovers darker secrets... Cora knows she must unravel their plans, but can she fight to make her voice heard, whilst never losing sight of herself?
Reviews
Jo
Show us Who You Are is a brave and truthful book weaving intriguing scientific possibilities and the harsh realities of social conformity. It is a book which is not 'about' autism but a book that shows what it is like to be autistic and how important it is to be accepted and valued.
At the age of 12, Cora has lost her mother, her dad is distant and her brother is much older and therefore working. It is the workplace of Cora's brother, Gregor, that becomes the focal point of the story. Gregor works for 'Pomegranate', a high-tech, almost dystopian, company that creates holograms with the aim of capturing the essence of a loved one so that once a person has died, they can 'live on' forever. The 'Grams' are intended to bring solace to grieving family member and, as Cora has recently lost her mother, she is curious about, and attracted to, the project and all of its potential.
The Pomegranate business is managed by Magnus Hawkins and it is through Gregor that Cora gets to meet Aiden Hawkins, the boss's son. A friendship is struck and Cora and Aiden spend more and more time together, acceptant of one another's individual traits.
It is through the central characters of Cora and Aiden that the reader learns what it is to be neurodivergent. There is no preaching or pitying, this is an honest, reflective look at life through a 'different' lens. The friendship between Cora and Aiden is based on mutual trust, respect and understanding and it allows the reader to appreciate the value of acceptance and tolerance.
As Cora's interest in the Pomegranate project increases, she is asked to be interviewed by the researchers in order to gain an insight into the workings of a neurodivergent mind. At first, Cora is a willing participant but gradually we become aware of a sense of foreboding. Things are not quite what they seem at Pomegranate. The balance between a tale of friendship and a story of corruption and the preying on people's emotions is fine- tuned so that this doesn't feel like a sci-fi story, nor does it feel like an exploration of friendship. It is skillfully crafted so that one theme works because of, and in spite of, the other.
There are unexpected twists in the story and moments of great sadness when Cora feels alone and inconsolable. There is also great strength and triumph as Cora makes a stand and finds her voice. Where once she was made to feel the odd one out, she begins to challenge society's perception and finds an inner strength enabling her to speak out.
This book says that 'You are enough' and that is what we must take from it. There is no 'fitting in' or conforming to be done; this page-turning read reminds us to be proud of who we are and to celebrate individuality. It is a celebration of neurodivergence wrapped up in an interesting, enthralling and exciting story line. I found this book hard to put down and will find it equally hard to forget.
208 pages / Ages 9+ / Reviewed by Jo Clarke, teacher
Suggested Reading Age 9+
Other titles