Skandar and the Phantom Rider: the spectacular sequel to Skandar and the Unicorn Thief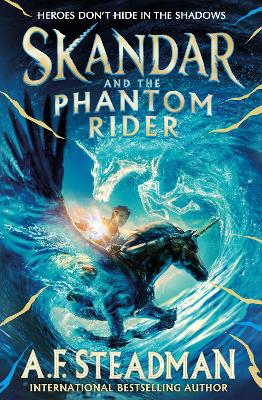 By Author / Illustrator
A.F. Steadman
Genre
Fantasy
Age range(s)
9+
Publisher
Simon & Schuster Ltd
ISBN
9781398502918
Format
Hardback
Published
27-04-2023
Synopsis
Warrior unicorns fly again . . .  Don't miss this second book in the international bestselling SKANDAR series, an unmissable adventure for readers age 9 to 99 and fans of Harry Potter, Percy Jackson and Eragon.

The Island shall have its revenge . . . Skandar Smith has achieved his dream to train as a unicorn rider. But as Skandar and his friends enter their second year at the Eyrie, a new threat arises. Immortal wild unicorns are somehow being killed, a prophecy warns of terrible danger, and elemental destruction begins to ravage the Island.  Meanwhile, Skandar's sister, Kenna, longs to join him - and Skandar is determined to help her, no matter what. As the storm gathers, can Skandar discover how to stop the Island tearing itself apart - before it's too late for them all?  Get ready for more action, unforgettable characters, and mesmerizing world building.

Praise for Skandar and the Unicorn Thief, the first book in the SKANDAR series:  'Steadman has a vast imagination, her world-building is a joy, the battle scenes are thrilling and her characters charm.' - The Times Children's Book of the Week.   "Skandar and the Unicorn Thief was a total joy to read; a whole world of deep magic and acts of courage, sacrifice and loyalty." - ReadingZone Reviewer. 'Pacy, enthralling and epic, a gripping read.' - Louie Stowell, author of Loki and Otherland.
Book 1: Skandar and the Unicorn Thief
Reviews
Sue
Having achieved his dream to become a unicorn rider, Skandar Smith is now in his second year at the Eyrie. However, tensions mount as wild unicorns - immortal creatures - are being killed and the words of a truesong, sung at the Saddle Ceremony, seems to cast suspicious eyes in Skandar's direction. Meanwhile, his sister, Kenna, longs to join him as a unicorn rider and Skandar is determined to help her in any way he can. As the pressure increases, can Skandar save the Island from destruction?
Skandar and the Phantom Rider is a wonderfully pacey and action-packed story with much to recommend it to fans of fantasy stories. Although back-details are given, it helps to have read book one, Skandar and the Unicorn Thief, to really appreciate the story from its starting point in book two.
Each member of Skandar's quartet face personal challenges as the story progresses, which cause tension and discord in the group as their relationships become more complex. Bobby is determined to emerge from what she perceives as Skander's shadow, whilst Mitchell is under pressure from his demanding father. Flo's membership of the elite Silver Circle and their mission to get rid of spirit weavers is another source of tension and Skandar is focused on helping his sister.
Friendship issues, insecurities and self-acceptance are all explored as the plot develops. The world building is brilliant with great attention to detail which adds greatly to the enjoyment of the story as Skandar and his fellows face new perils and challenges whilst trying to solve the unfolding mystery. To say too much would be to spoil the plot for anyone who has not read it, but there's plenty to enjoy and plenty to look forward to in future books!
432 pages / Reviewed by Sue Wilsher, teacher
Suggested Reading Age 9+
Jennifer
Skandar and the Phantom Rider is the stunning sequel to the first Skandar adventure (Skandar and the Unicorn Thief) and is another thrilling, exciting and epic tale set in a world where becoming a Unicorn Rider is the ultimate dream for many children as they grow up.
Skandar himself is now in his second year living and training in the Eyrie on the Island but, with his unique, mistrusted (and previously illegal) elemental spirit wielding power, he still stands alone and isolated from many of his peers and teachers alike. This year, danger arises when the immortal, wild unicorns are mysteriously being killed - a vile, darkly impossible act that seems to be creating an elemental imbalance in the Island itself.  Nature seems in turmoil and life there becomes ever more unsafe and precarious.
Skandar and the Phantom Rider is very much about the growth of its young characters in this next part of the story. Skandar must struggle with accepting and using his powers whilst still trying to hide his family connection with the darkness of the feared Weaver. There are prophecies about the 'true successor' of the spirit's dark friend. Is Skandar's destiny to be implicated someway in the deaths and destruction consuming his world, after all?
Skandar is once again at the centre of the chaos. As he tries to prove he has a rightful place at the Eyrie , he is swept up in the grim mystery of the slaughtered wild unicorns and must protest his own innocence. Those who believe in him and stand by his side are few and far between - the sibling story between Skandar and his sister Kenna develops in this book as the distance between them physically and emotionally grows more painfully powerful. Kenna becomes a more central figure in this second book - there are some edgy, unsettled family bonds, differences and secrets that creep into the story, adding an extra layer of tension. The relationships in Skandar's own quartet of friends are deepened and these scenes give the story its wonderful 'human' connections that readers can relate to; the ebb and flow of friends falling out, making up, hurting each other and defending each other. The humour and heart here provides a warm contrast to the vast, sweeping large scale images of sky battles and wild landscapes.
World-building is at its most fantastical and bold in the Skandar books. There are perilous, dramatic training sessions and dangerous, deadly, fierce sky battles with both magnificent, bonded and decaying, monstrous unicorns (like nothing ever seen in a fairytale story with these creatures). The language is rich, layered with details and creates a whole world for the reader to immerse themselves in.
A pacey plot building to a frenzy of action - Skandar and the Phantom Rider is gripping and leaves the reader hooked for the next instalment.
432 pages / Reviewed by Jennifer Caddick, teacher
Suggested Reading Age 9+
Other titles