Skandar and the Phantom Rider: the spectacular sequel to Skandar and the Unicorn Thief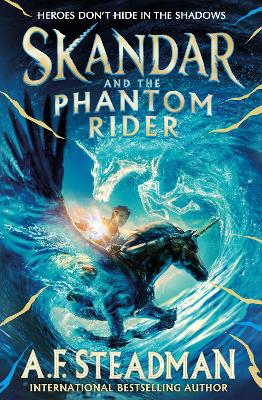 By Author / Illustrator
A.F. Steadman
Genre
Fantasy
Age range(s)
9+
Publisher
Simon & Schuster Ltd
ISBN
9781398502918
Format
Hardback
Expected
27-04-2023
Synopsis
Warrior unicorns fly again . . .  Don't miss this second book in the international bestselling SKANDAR series, an unmissable adventure for readers age 9 to 99 and fans of Harry Potter, Percy Jackson and Eragon.

The Island shall have its revenge . . . Skandar Smith has achieved his dream to train as a unicorn rider. But as Skandar and his friends enter their second year at the Eyrie, a new threat arises. Immortal wild unicorns are somehow being killed, a prophecy warns of terrible danger, and elemental destruction begins to ravage the Island.  Meanwhile, Skandar's sister, Kenna, longs to join him - and Skandar is determined to help her, no matter what. As the storm gathers, can Skandar discover how to stop the Island tearing itself apart - before it's too late for them all?  Get ready for more action, unforgettable characters, and mesmerizing world building.

Praise for Skandar and the Unicorn Thief, the first book in the SKANDAR series:  'Steadman has a vast imagination, her world-building is a joy, the battle scenes are thrilling and her characters charm.' - The Times Children's Book of the Week.   "Skandar and the Unicorn Thief was a total joy to read; a whole world of deep magic and acts of courage, sacrifice and loyalty." - ReadingZone Reviewer. 'Pacy, enthralling and epic, a gripping read.' - Louie Stowell, author of Loki and Otherland.
Other titles