Slug in Love: The perfect hug this Valentine's Day!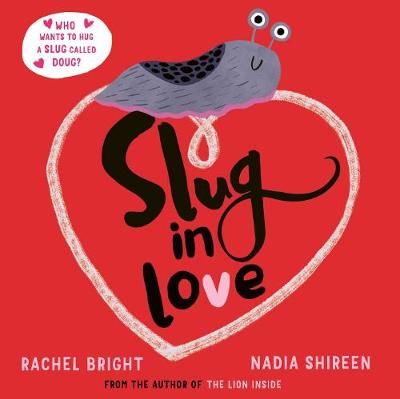 By Author / Illustrator
Rachel Bright, Nadia Shireen
Genre
Picture Books
Age range(s)
3+
Publisher
Simon & Schuster Ltd
ISBN
9781471188619
Format
Paperback / softback
Published
21-01-2021
Synopsis
The irresistible story of one slug's search for love from picture book bestsellers Rachel Bright and Nadia Shireen.

Doug the slug needs a hug. But who wants to hug a slug called Doug?

Snuggle up with lonesome Doug on his search for love in this completely charming picture book which shows that you just never know when love might come flying by... (And which introduces an unsuspecting world to snail superstar, Gail!)

A warm and endearing rhyming text by Rachel Bright (Love Monster, The Lion Inside) is perfectly paired with funny and fabulous illustrations by Nadia Shireen (Good Little Wolf, Billy and the Beast) in this adorable future classic.


Reviews
Judith
This delightful rhyming tale tells of the cutest slug you have ever seen and his search for love. When we first meet Doug, he is lonely and in need of a hug. He spends his days alone, exploring his rather littered environment, crawling somewhat forlornly in and out of old tin cans and discarded ice cream cartons. He readily admits his desire for a hug but, as loveable as he undoubtedly is, it seems the other mini beasts he encounters are quite oblivious to his charms.

This leads him to experience several rejections and insults from his fellow creatures, who note that he is squelchy, slimy, icky and sticky, amongst other things. In time, he finds Gail, a glamorous snail, who seems perfect for him, as she could be said to share very similar characteristics. Sadly, this is a case of unrequited love and Gail makes it clear she is not the one for him - but not before we have seen the pair on various, slightly awkward, imaginary dates.

Finally, Doug finds himself enamoured with a completely different kind of mini-beast, proving that opposites can sometimes attract and we are treated to pictures of their joyful courting and a blissful illustration on the final page.

Doug's expressive features are illustrated so cleverly, and depict a whole range of emotions, with which readers will surely empathise. Several other creatures also populate the pages and will be fun for younger readers to spot and identify.
Suggested Reading Age 3+
Jessica
This book certainly did not disappoint! I had high hopes for this book as Rachel Bright is the magic behind the highly successful The Lion Inside and Love Monster and Nadia Shireen has had huge success this past year with Billy and The Beast. I was extremely excited by this new debut pairing and together they have absolutely created a show stopper - a future classic, for sure!

This comical, amusing picture book is simple in its language but rather telling in its bright, bold illustrations. Ultimately, Doug is a slug in need of a hug - but who wants to hug a slug? The simple but incredibly funny language makes Doug, despite being a slug, very endearing and loveable. This charming picture book teaches us that sometimes love can be found in the most unexpected places, delivering a charming and sweet message of warmth and love.

Slug in Love can be enjoyed by everyone and anyone in need of a snuggle and a hug, some warmth and a chuckle. This rhythmic book could be enjoyed during a special moment between a parent and their child or it can be equally as impactful with a group or whole class of children. This book's message is there to be read by young and old alike- especially teens who might find themselves in love.

We learn an important message: we must not only love but be loved in return, that's when we truly experience love.

Picture book / Ages 3+ / Reviewed by Jessica Bunney, teacher
Suggested Reading Age 3+
Other titles