Snot, Sneezes, and Super-Spreaders: Everything You Need to Know About Viruses and How to Stop Them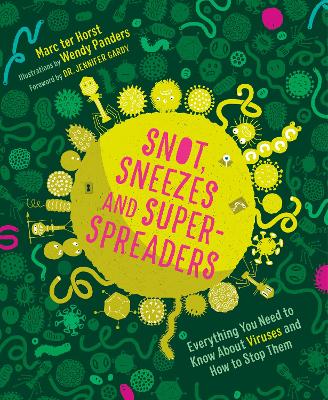 By Author / Illustrator
Marc ter Horst, Wendy Panders, Laura Watkinson, Dr Jennifer Gardy
Genre
Non Fiction
Age range(s)
11+
Publisher
Greystone Books, Canada
ISBN
9781771649735
Format
Hardback
Published
10-11-2022
Synopsis
Discover the extraordinary world of viruses, from their creation and transmission to what we can do to stop them, in this science-based resource for kids 8 to 12. If we didn't know it before, we certainly know it now: Viruses can be powerful-so powerful, in fact, that they can hold the world in their grip for months at a time. But what exactly is a virus? Where do they come from and what do they do to our bodies? How do they spread, and what can we do to protect ourselves? Author Marc ter Horst tackles these questions with playfulness and humor, while Wendy Panders' quirky and enlightening illustrations bring the text to life.
Snot, Sneezes, and Super-Spreaders is an accessible and engaging guide to help young readers understand our current world, with information on: Pandemics, addressed in an age-appropriate way that goes beyond doom and gloom. The value and importance of vaccines for addressing viral diseases.  Fascinating, icky diseases of the past - and those that still hang around today. The science behind how to protect ourselves and our communities from current and future viruses.
Reviews
Sharon
Snot, Sneezes and Super-spreaders has everything a young person might want to know about viruses including how they replicate, spread and infect their hosts. The chapter about AIDS is definitely more suited to those in high school or the very mature Year 6 child (ages 10+), so there's a word of caution for those primary teachers looking at this book.
The carefully selected children I read this book with said that they liked the illustrations- cartoonified drawings were very accessible for them. As a teacher I was surprised at how much prior knowledge the children had about viruses - I guess the recent pandemic has had an impact for this!
As a teacher the double page spreads in this book would be super for nonfiction based comprehension texts, one of the best ones in the book is called "Intruders". I asked my group to draw a flow diagram of the information on this page and the level of detail they showed and understood was phenomenal.
As a science leader I find this is a fascinating book which I would recommend for ages 11+.
138 pages / Reviewed by Sharon, teacher
Suggested Reading Age 11+
Other titles