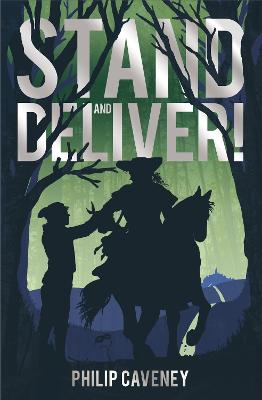 By Author / Illustrator
Philip Caveney
Genre
Historical Fiction
Age range(s)
9+
Publisher
UCLan Publishing
ISBN
9781915235411
Format
Paperback / softback
Published
03-11-2022
Synopsis
Ned is awkward, a little shy, and just trying to find his place in the world. He also happens to be the assistant to the nation's most feared highwayman, The Shadow . . .  In a time when highwaymen ruled the roads, Ned is reluctantly swept up into a whirlwind of adventure. Whilst escaping the grasp of the thief-takers, Ned soon finds himself stepping into his Master's shoes and an unwanted life of crime. The pressure is building with new friends and enemies galore when Ned stumbles upon a long-infamous gem, The Bloodstone, which forces him to make an important choice. Can he ultimately escape this new threat and finally free himself from the grips of The Shadow?
Reviews
Nathan
I knew from the first few pages this was going to be a brilliant, captivating read. Stand and Deliver! by Philip Caveney is a thrilling adventure packed with action, twists, turns and a few scary, brutal encounters. This story will grip the reader!
The book is set at a time when feared highwaymen patrolled and ruled the highways in and around London. A victim of the times, the story starts with a shy boy called Ned who finds himself a street beggar with no family or place to call home. However, when The Shadow, the most feared highwayman of Epping Forest, arrives in town and offers Ned to be his assistant, he has little choice but to accept.  Ned is literally swept up off the streets into this new world of action, crime and adventure.
This book would fit perfectly along Alfred Noyes's famous poem 'The Highwayman'. However, Stand and Deliver is also a great action-packed adventure that would be a great standalone read. This book would be a great guided reading whole class text for Year Six (ages 10+) in the summer terms, too. The story also has a great 'hook' for discussions and work around crime and punishment.
I would highly recommended Stand and Deliver! for children 9-12 years old (Year 5, 6 and 7). Thank you, Philip. You were right, the book does keep getting better with each turn of the page!
256 pages / Reviewed by Nathan, teacher
Suggested Reading Age 9+
Other titles