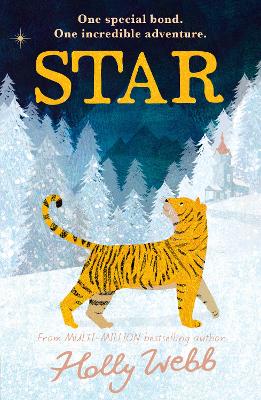 By Author / Illustrator
Holly Webb
Genre
Animals
Age range(s)
7+
Publisher
Little Tiger Press Group
ISBN
9781788953290
Format
Paperback / softback
Published
11-11-2021
Synopsis
When Anna borrows a tiny wooden tiger from her Russian grandmother's mantelpiece, little does she realize that it is the start of a magical adventure...  Waking the next day, Anna finds herself in a snowy Russian village, where she hears the news that a tiger cub has been spotted in the nearby woods. Anna knows this is why she must be here - the cub needs her help! But is Anna brave enough to set out in search of a tiger in the forest at night?  An enchanting wintry tale from best-selling author Holly Webb. For fans of Michael Morpurgo and Zoe's Rescue Zoo, this is the perfect book to snuggle up with and enjoy this winter.
Reviews
Lucy
Another lovely book by Holly Webb! Holly Webb's book are pitched perfectly for children who are building their reading stamina and introducing themselves to chunkier chapter books.
This story follows a girl called Anna who find a small, wooden tiger. When she sleeps with the tiger tucked underneath her pillow, the finds herself transported into a snowy winter wonderland. Suddenly, she finds herself on a quest to locate a tiger cub that has been spotted by the locals but she has to summon all of her bravery to accept the adventure.
Each chapter has a beautifully illustrated page and there are pictures scattered throughout the story to aid children's imagination. A lovely, wintery story - I would definitely recommend!
192 pages / Reviewed by Lucy Newton, teacher
Suggested Reading Age 7+
Catherine
Star is the second book of Holly Webb's that I have read and I thoroughly enjoyed it. The story is about a young girl called Anna who gets magically transported to a Russian village. A tiger cub is roaming the nearby forest and Anna tries to find him. The illustrations in the book are beautiful. I also loved reading the Russian references. I don't know much about Russia and this book taught me a few things such as traditions, food and language.
I was a little confused by the part when Anna was magically transported to Russia. One minute she was Anna who was talking about her cousins, Aunty and Uncle. The next, she was Annushka and her cousins were now her brothers and sisters and her Aunty and Uncle had become Mum and Dad! She was not confused or scared at all and seemed to accept what had happened quite willingly without question. I thought this part of the story could have been expanded more.
All in all, this is a lovely wintry story that children will love to snuggle down and read.
192 pages / Reviewed by Catherine Kus, teacher
Suggested Reading Age 7+
Other titles