Stick Boy and the Rise of the Robots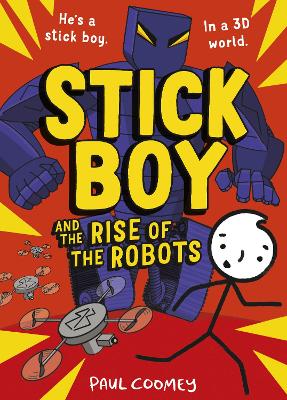 By Author / Illustrator
Paul Coomey
Genre
Comics & Graphic Novels
Age range(s)
9+
Publisher
Little Tiger Press Group
ISBN
9781788953245
Format
Paperback / softback
Published
14-04-2022
Synopsis
It's tough fitting in when you're born to stick out!   When Baron Ben gives the residents of Little Town an exciting new gadget that lets them explore virtual worlds, they can't wait to try it out! Before long everyone is plugged into their techy treats. Everyone that is, except Stick Boy. Left to his own devices and suspicious of Baron Ben's generous gift, Stick is on the case. And when his investigations lead him to a secret underground lair full of robots preparing to take over the town, it's up to Stick Boy to save the day!

An exciting and extremely funny new world for middle grade readers and fans of DIARY OF A WIMPY KID, TOM GATES and TIMMY FAILURE with colour illustrations throughout.
Reviews
Hayley
Sticky Boy and the Rise of the Robots is the sequel to Stick Boy by Paul Coomey. This eye-catching book once again is filled with fantastic illustrations and a plot seeking to find an end to an evil plan.
Stick Boy returns with his 'Mystery Mates' to take us on a new adventure that starts with a mysterious gift from Baron Ben. The residents of Little Town have been given a HeadBox - a marvel of modern technology that will be sold exclusively in Little Town. Everybody in town is excited by this new technology but with everyone plugging into their HeadBoxes, Stick becomes increasingly isolated from his friends because his head will not fit inside the box.
However, this allows Stick to see what is really happening in Little Town. He becomes increasing suspicious when the megalomaniac Baron Ben is elected Little Town's first mayor and starts to investigate, beginning with the suspicious behaviour of a DeliveroBot. As the plot unfolds, Stick is adamant that Little Town is in trouble and that he and his mystery mates must investigate what is going on, to save the people of Little Town.
This is a super story with a thrilling plot. I know that the children in my school will love reconnecting with the characters from Stick Boy and enjoy reading the new book.
307 pages / Reviewed by Hayley Summerfield, teacher
Suggested Reading Age 9+
Other titles