Supertato: Evil Pea Rules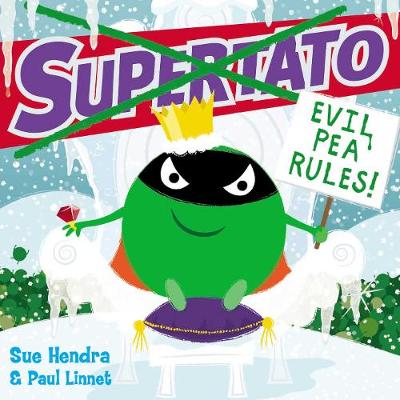 By Author / Illustrator
Sue Hendra, Paul Linnet
Genre
Adventure
Age range(s)
5+
Publisher
Simon & Schuster Ltd
ISBN
9781471144066
Format
Paperback / softback
Published
02-11-2017
Synopsis
From bestselling, award-winning duo Sue Hendra and Paul Linnet comes the story of the much-loved Supertato's nemesis - The Evil Pea.

There's jingling in the aisles and a festive feel in the air...

But The Evil Pea has escaped!

He wants to turn the supermarket into an icy kingdom where he will RULE! Help, veggies, WHERE IS SUPERTATO?

'There's lots of anarchic fun to be had in this joyous romp of a story with a very Christmassy feel ... Full of humour, action and excitement, with glorious illustrations, this is another winner from a great team.' Parents in Touch

Other titles in the Supertato series:
Supertato
Supertato: Veggies Assemble
Supertato: Run Veggies Run
Supertato: Veggies in the Valley of Doom
Supertato: Carnival Catastropea
Supertato: Books Are Rubbish (WBD)
Supertato Sticker Book

COMING MARCH 2021: SUPERTATO: BUBBLY TROUBLY!
Reviews
Nicki
The ghastly green super villain is back and determined to stop his nemesis once and for all. Evil Pea is set on ruling the supermarket once and for all, and has a dastardly plan to put Supertato out of action for good. With his plans underway to turn the supermarket into his very own ice kingdom, can Supertato save the day? A fabulously fun and festive offering from the Dynamic Duo Of Picture Books! Supertato has it all; a hero to root for, a vile villain and it's brimming with adventure and laughs. The gasps of delight from Year 6 when I opened my book post just goes to show you are never to old to enjoy a good picture book! What Bedtime Bookclub thought...'Evil Pea is so funny. If he could learn how to be nice, I think he'd be a really fun friend!' 'I loved it when the fruit and vegetables woke up, and saw what Evil Pea had done. His reaction was the best part of the whole story.' 'This is my favourite Supertato story because the pictures make me laugh. I loved everything about Evil Pea Rules.' Huge thanks to ReadingZone for sending me a copy to review, and to my Year 3 Bedtime Book Club for sharing their thoughts! Picture book / Ages 3+ / Reviewed by Nicki Cleveland, teacher.
Suggested Reading Age 3+
Lesley
My class loved this story and it ended our Christmas week perfectly. Many of them had read other 'Supertato' adventures but that wasn't really necessary to enjoy this festive fun. They really liked the heroic potato battling against the evil pea and we could link this to so many other stories where the baddie keeps on trying but is always beaten by the goodie. It was a super story to develop prediction skills with the children about what Pea may be plotting and how Supertato may triumph. They particularly liked the Ho-ho-hold it right there! as the pea was stopped in his tracks and the surprise ending to teach Pea a lesson. Lots of giggles, lots of fun and with a good Christmas message about staying on the 'nice' list. We would recommend! Picture book / Ages 3+ / Reviewed by Lesley Earnshaw, teacher.
Suggested Reading Age 5+
Other titles