Take Me With You When You Go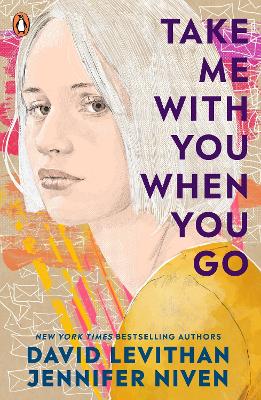 By Author / Illustrator
David Levithan, Jennifer Niven
Genre
Family & Home
Age range(s)
14+
Publisher
Penguin Random House Children's UK
ISBN
9780241550809
Format
Paperback / softback
Published
31-08-2021
Synopsis
Subject: You. Missing.

Ezra wakes one day to find his sister gone. No note, no sign, nothing but an email address hidden somewhere only he would find it.  Escaping their toxic home life, Bea finds herself alone in a new city - without friends, without a real plan - chasing someone who might not even want to be found.  As things unravel at home for Ezra, Bea confronts secrets about their past that will forever change the way they think about their family. Separated by distance but connected by love, this brother and sister must learn to trust themselves before they can find a way back to each other.

From the New York Times bestselling authors of All the Bright Places and Every Day comes a story of hope, family, and finding your true home in the people who matter the most.
Reviews
Lucy
Wow! What a collaboration! I was hooked from the very start in this absolutely seamless novel. Take Me With You When You Go is told through emails from siblings Bea and Ezra. Bea has just left home and no-one knows where she is, much less cares, except for her brother Ezra who she eventually contacts and swears to secrecy. What follows is a very personal, soul searching, story of grief and healing between Bea and Ezra who finally are able to communicate their feelings and thoughts about their abusive home life, ultimately discovering that neither are to blame and both have everything to live for.
The conversations between Bea and Ezra are incredibly powerful and deeply moving. It is difficult to warm to Bea at first as she appears to be utterly selfish and self-absorbed, but gradually you understand why she ran away and totally understand why she did it. She is deeply distrusting of anyone who shows her an ounce of kindness and is let down once again when she goes to meet someone who she thinks is her real dad, only to find out it's her younger half-brother who she knew nothing about. She gradually begins to piece together her real father's life through this part of her family, who she never realised existed.
Ezra is struggling, too; with understanding Bea and her actions, with his own relationship with his boyfriend Terrance and his family; and with his abusive home life with his own mum and Darren. Darren is vile and to be honest, his mum is no better.
Despite this, Take Me With You When You Go is a story of hope, of family and of the unexpected kindness of strangers. It is powerful, moving and very beautiful. I, for one, absolutely loved it and it has stayed with me long after the final word – the epitome of an absolutely brilliant novel.
336 pages / Reviewed by Lucy Georgeson, school librarian
Suggested Reading Age 14+