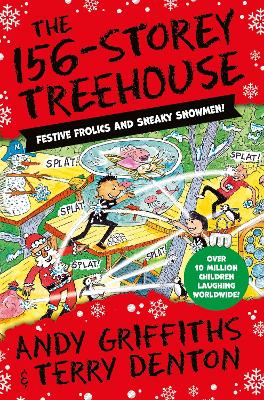 By Author / Illustrator
Andy Griffiths, Terry Denton
Genre
Funny Stories
Age range(s)
7+
Publisher
Pan Macmillan
ISBN
9781529088595
Format
Hardback
Published
27-10-2022
Synopsis
Treehouse is getting festive! With lots of Christmas laughs at every level in The 156-Storey Treehouse, from the worldwide bestselling Treehouse series by Andy Griffiths and Terry Denton.  They've added 13 new levels, including a wishing well, a world-record breaking level, a T.V quiz show (hosted by Quizzy the quizzical quizbot) and an amazing mind-reading sandwich-making machine!  

It's the night before Christmas, but it's not going well for Andy and Terry - they're at war with an angry snowman, Santa has crashed his sleigh and fallen into the cloning machine, and Mr. Big Nose wants a new book by tomorrow!  Can they defeat the snowman, save Christmas, and get their book written in time?  
Well, what are you waiting for? Come on up!
Find out more from author Andy Griffiths!
Reviews
Emma
156 Storey Treehouse by Andy Griffiths and Terry Denton is part of the supreme 'The 13-Story Treehouse' series which has sold over 1 million copies in the UK alone. Its madcap capers are a joy and the books are perfect for those that love Captain Underpants or Diary of a Wimpy Kid - confident early readers aged 7 and up. The illustrations that accompany the story are fabulous - all in black and white and there is so much detail that they tell a story, too.
Set on Christmas Eve, this story tells of Andy and Terry's rush to publish their book on Christmas Day. The pair write their Christmas list to put in their expandable Christmas stocking and sing amended carols as they do so - their rendition of the '12 days of Christmas' is particularly amusing. Andy and Terry try every Christmas tradition and get very easily distracted from what they are supposed to be doing - writing their book!
A fab laugh out loud read, perfect for readers aged 7+.
304 pages / Reviewed by Emma Nelson, teacher
Suggested Reading Age 7+
Other titles