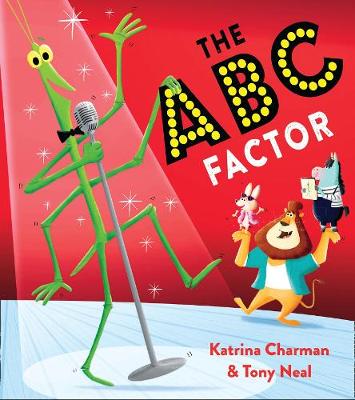 By Author / Illustrator
Katrina Charman, Tony Neal
Genre
Early Skills
Age range(s)
5+
Publisher
HarperCollins Publishers
ISBN
9781405298575
Format
Paperback / softback
Published
08-07-2021
Synopsis
If you love Oi Frog and Friends, you'll adore this madcap animal alphabet story, guaranteed to get kids giggling - and learning!
Dog's looking for animals to star in her new alphabet book. But she doesn't want 'ordinary animals'. No cats, dogs or lions. She's looking for animals who are different. Animals who are special. Animals who have ... the ABC Factor.
Stick Insect is sure he has got the ABC factor - but will Dog and her fellow judges agree?
From anacondas and aye-ayes to manatees, lemmings and naked mole rats, only the weirdest and more wonderful animals need apply!
Reviews
Lizi
An alphabet book with a twist! Tired of the normal animal alphabets, Cat is writing her own alphabet of unusual animals and is holding an audition, with the help of fellow judges Lion and Pony, to fill each letter.
Stick Insect is tired of pretending to be a stick so when he sees the poster advertising the auditions, he's over the moon! However, getting into the alphabet is harder than it seems....
This is an entertaining book; the characters are funny, it's well written and enjoyable for both adults and children alike! The illustrations, by Tony Neal, are bright and hilarious - they convey the meaning of the words fantastically!
It's a great read for at home or in school - and could even inspire children to draw their own animal alphabets - just like Cat's, which is included at the end!
32 pages / Reviewed by Lizi Backhouse
Suggested Reading Age 5+