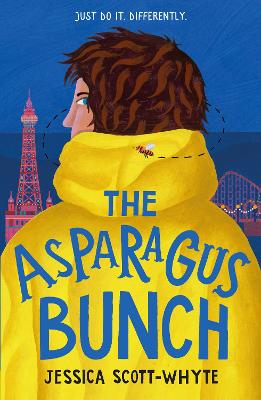 By Author / Illustrator
Jessica Scott-Whyte
Genre
Representation & Inclusion
Age range(s)
11+
Publisher
Welbeck Publishing Group
ISBN
9781801300469
Format
Paperback / softback
Published
21-07-2022
Synopsis
A fresh and irreverent comedy starring a cast of neurodiverse characters - guaranteed to be one of the funniest novels you'll read this year.    Leon John Crothers is 4779 days old (13 years and one month, if you're mathematically challenged). He has been 'moved on' from six different schools and most people think he has an attitude problem. Leon doesn't care for the label, in the same way that he doesn't care for Tim Burton, supermarket trolleys, train fanatics or Bounty bars. 
This time, however, things may turn out differently, as help comes from where he least expects it - Dr Snot, a physician at pains to help Leon navigate 'normal' and classmates Tanya and Lawrence, who both face their own challenges. When school bully Glen Jenkins humiliates Leon in the school canteen and almost destroys Lawrence, Leon very reluctantly agrees to the formation of a club, The Asparagus Bunch.   
How Leon manages to navigate school woes and family drama - and astonishingly ends up with not one but two friends - is nothing short of a miracle, or maybe just simply down to being different.
Reviews
Janine
Fantastic read! I found Leon to be a compelling character who was written sympathetically and intelligently. The Asparagus Bunch were like friends to me by the end of the book and I have enormous love for Caroline. It was so lovely to read a book from the perspective of neurodiversity written by an author who truly understands. I only wish that the bully wasn't ginger because people with red hair are frequently bullied for this trait. I also think that the author's note at the end should have come at the start as some people may switch off at the mere mention of Asperger's.
I will be recommending this wholeheartedly to anyone who will listen.
240 Pages / Reviewed by Janine, school librarian
Suggested Reading Age 11+
Elen
The Asparagus Bunch sees teenage Leon starting his seventh school, safe in the knowledge that, sooner or later, he will be starting a different school after he leaves this one under some cloud or another. Leon has what people see as an 'attitude problem' and this has landed him in deep trouble at his previous schools; why should this one be any different?
However, Leon's assumptions are gradually overturned as a local doctor and two friends with their own challenges start to see beyond Leon's attitude to what is causing it, and the person beyond. Leon's new friends (although it takes him a while to acknowledge the friendships), Tanya and Lawrence, are able to see beyond Leon's outrageously tactless comments because they recognise divergence; Tanya is dyslexic and Lawrence also neurodivergent. After a spate of bullying in which Lawrence comes out worst, the friends get together to form the 'Asparagus Bunch' with the motto, 'Do things differently'.  Difference, and being positive about difference, is a key theme in the novel, as Leon gradually begins to understand himself; this helps him to rebuild bridges with his friends after he lets them down. 
The Asparagus Bunch is is an excellent book for giving readers a glimpse into the mind of a young person who is neurodivergent and for building empathy. It is also a very entertaining read as Leon is so uninhibited in what he says and although often unkind, his comments and observations can also be very funny.  Leon has a passion for sweets and collecting special edition sweets, and so as you read this, you'll also learn why a Toblerone isn't actually shaped like a mountain, and how a range of other sweets came into being; you'll also learn a lot about bees and bee-keeping from Lawrence.
I thoroughly enjoyed The Asparagus Bunch. Leon is a captivating narrator and his observations of other people around him are sharp-witted and often hilarious. As he navigates his new friendships and starts to better understand how his mind works, you're on his side all the way, hoping he will, eventually, do the right thing.  All the characters zing off the pages and I had a particular soft spot for Leon's mum, a single parent who has inordinate patience with her son's demands.
The Asparagus Bunch is a hugely rewarding read and a great choice for teenagers looking for a story about friendship with lots of heart, plenty of chuckles and characters they will root for.
240 pages / Reviewed by Elen
Suggested Reading Age 11+
Other titles