The Ballad of Songbirds and Snakes (A Hunger Games Novel)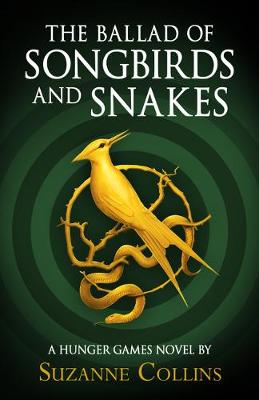 By Author / Illustrator
Suzanne Collins
Genre
Dystopian
Age range(s)
11+
Publisher
Scholastic
ISBN
9780702300172
Format
Hardback
Published
19-05-2020
Synopsis
Ambition will fuel him. Competition will drive him. But power has its price. It is the morning of the reaping that will kick off the tenth annual Hunger Games.  
In the Capitol, eighteen-year-old Coriolanus Snow is preparing for his one shot at glory as a mentor in the Games. The once-mighty house of Snow has fallen on hard times, its fate hanging on the slender chance that Coriolanus will be able to outcharm, outwit, and outmaneuvre his fellow students to mentor the winning tribute. 
The odds are against him. He's been given the humiliating assignment of mentoring the female tribute from District 12, the lowest of the low. Their fates are now completely intertwined - ; every choice Coriolanus makes could lead to favour or failure, triumph or ruin. Inside the arena, it will be a fight to the death. Outside the arena, Coriolanus starts to feel for his doomed tribute... and must weigh his need to follow the rules against his desire to survive no matter what it takes.
Three books, four films and one WORLDWIDE PHENOMENON, The Hunger Games changed the face of global YA.
Reviews
Clare
In The Ballad of Songbirds and Snakes, the Capitol is still living with the ravages of war when 18-year-old Coriolanus Snow is selected as a mentor for the barely-watched and unpopular Hunger Games. Still a student at the Academy and desperate to gain a scholarship to enable his education to continue, Coryo is torn between loyalty to the Capitol and a sense of growing unease about the fate of the tributes.
When he is partnered with the charismatic Lucy Gray Baird, Coryo realises that he has a chance to win the games and save the near destitute remains of his family from public humiliation. But a fellow student inadvertently interferes with his plans and Coryo finds himself drawn to the evil machinations of the head gamesmaker, Dr Gaul.
It was with much anticipation that I returned to the world of Panem and the Hunger Games and this prequel doesn't disappoint. Longer than the other books, there is plenty of background detail and readers gain a tantalising glimpse into the future evil of President Snow. Collins's direct writing style will again hook readers and the shocking brutality of the Hunger Games is told in similarly unflinching detail. But this is a book about Snow - his conscience and the irrevocable choices he makes. With plenty of loose ends and much time still to account for, more prequels seem set to follow. An absolute must read.
528 pages / Ages 12+ / Reviewed by Clare Wilkins, school librarian
Suggested Reading Age 11+
Other titles