The Bedtime Book of Impossible Questions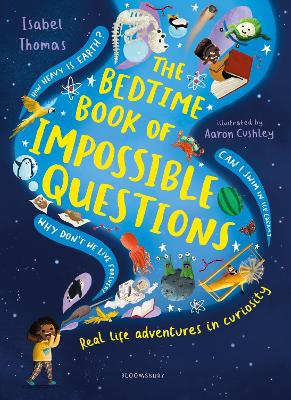 By Author / Illustrator
Isabel Thomas, illus Aaron Cushley
Genre
Non Fiction
Age range(s)
7+
Publisher
Bloomsbury Publishing PLC
ISBN
9781526623751
Format
Hardback
Published
13-10-2022
Synopsis
Why are bubbles always round? Could I ever touch a rainbow? Why can't I remember being a baby? Have you ever not been able to concentrate because there are SO many questions buzzing round your brain? The Bedtime Book of Impossible Questions will offer answers to the most bamboozling questions and curious queries that you can think of.How many stars are in the night sky? Why don't animals wear clothes? Do plants have feelings? This book will define, debunk and demystify the trickiest of questions and even open your eyes to questions you have never even thought of!With engaging and accessible text and accompanied by exciting, inviting illustrations, The Bedtime Book of Impossible Questions is the perfect bedside companion to delve into when you are wondering if there really is an answer to everything.
Find out more from author Isabel Thomas
Reviews
Carol
Our school Reading ambassadors really enjoyed this fascinating book. The Bedtime book of Impossible Questions answers those questions that you didn't know you had. Perfect for bedtime reading for those who ask 'why what when where and how', it will quench your child's thirst for unusual facts. Questions like why are bubbles always round? What is the world's worst smell? Why can't I remember being a baby? How many stars are there? And many, many more. The only issue one of our reading Ambassadors had was there is so much information for your brain it may keep you up past your bedtime!
96 pages / Reviewed by Carol Wright, school librarian
Suggested Reading Age 7+
Jemma
WOW! This book is incredible! Do animals make friends? How many trees are there in the whole world? Could I ever touch a rainbow? The Bedtime Book of Impossible Questions answers all these questions and a whole bunch more.
Full of fascinating facts and awesome illustrations, my daughter and I have barely scratched the surface of this large book that has almost 100 questions and answers. There are answers to questions I haven't even thought of! Each question is answered in a fun, accessible way and big concepts are explored with ease and joy. I am looking forward to finding out more truths about the universe, the world and all the creatures within it by continuing to make my way through this book.
This book would suit a wide range of ages, from five-year-olds who ask a million questions a day themselves, to 11-year-olds who are curious and ready to absorb the information and facts. My daughter and I highly recommend The Bedtime Book of Impossible Questions!
96 pages / Reviewed by Jemma Jeffrey, teacher
Suggested Reading Age 7+
Other titles