The Big Amazing Poetry Book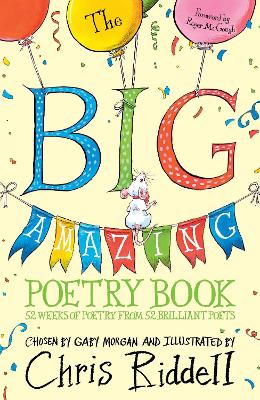 By Author / Illustrator
Gaby Morgan, Chris Riddell
Genre
Poetry
Age range(s)
7+
Publisher
Pan Macmillan
ISBN
9781529099096
Format
Hardback
Published
29-09-2022
Synopsis
A brilliant introduction to 52 fantastic poets introduced by Roger McGough and illustrated by Chris Riddell. The Big Amazing Poetry Book is a warm, funny collection snd packed with different styles of poetry - ballads, riddles, tongue-twisters, shape poems, haikus, sonnets and raps - about seasons, festivals, animals, birds, love, war, food, fish and football and much more. There are seven poems and a biography to showcase each poet and stunning line artwork on every page.

Includes poems from: John Agard, Ruth Awolola, Gerard Benson, James Berry, Clare Bevan, Brian Bilston, Valerie Bloom, Liz Brownlee, Steven Camden, Lewis Carroll, James Carter, Charles Causley, Mandy Coe, Joseph Coelho, Dom Conlon, Paul Cookson, Pie Corbett, Shauna Darling Robertson, Jan Dean, Peter Dixon, Julia Donaldson, Carol Ann Duffy, Eleanor Farjeon, John Foster, Nikita Gill, Chrissie Gittins, Martin Glynn, Matt Goodfellow, Sue Hardy-Dawson, David Harmer, A. F. Harrold, Jenny Joseph, Jackie Kay, Ian McMillan, Wes Magee, Roger McGough, Michaela Morgan, Brian Moses, Laura Mucha, Grace Nichols, David Orme, Gareth Owen, Brian Patten, Rachel Piercey, John Rice, Coral Rumble, Roger Stevens, Nick Toczek, Kate Wakeling, Zaro Weil, Colin West and Kit Wright.
Reviews
Sue
If there are any parents or teachers who feel lost about where to find an excellent selection of poems for their children, they need search no more!  The Big Amazing Poetry Book not only offers an introduction to 52 (that's one for every week of the year) wonderful poets, it also contains a whole host of poems in different styles on a very wide range of subjects for all ages! According to Roger McGough in his foreword, this is an 'Annualogy', containing seven poems by each of the 52 poets.
Often over my teaching career, I have met children (and adults!) who declare that they hate poetry - on further investigation, it quickly becomes clear that they just haven't taken to the poems they have been offered, the way the poems have been approached - or both. This collection allows the reader real choice - not only in the choice of poet, but choice of poems by each poet, showing just how varied (and talented) poets can be.
The book would be perfect of dipping in and out of as a family, for exploring at bedtime or for lingering with when alone. For teachers, The Big Amazing Poetry Book is a real gift. There are well-known, much-loved poems here - 'The Sound Collector' (Roger McGough), 'Timothy Winters' (Charles Causley), 'Give Yourself a Hug' (Grace Nichols) and 'Cats' (Eleanor Farjeon) to name a few - alongside less familiar works which are sure to become new favourites. The current Children's Laureate, Joseph Coelho, is included - perfect for making sure children are introduced to Joseph and his work - as well as the 2011-13 Laurate, Julia Donaldson.
There are many poems here which would work perfectly as models for inspiring writing - 'My Colours' (Colin West), 'You're Never Too…' (Laura Mucha), 'A Flutter of Fairies' (Clare Bevan); those which could instigate discussion - 'Give and Take' (Roger McGough), '93% Stardust' (Nikita Gill), 'Checking Out Me History' (John Agard), 'Earthtalk' (Shauna Darling Robertson); poems to sprinkle across the curriculum; poems to perform; poems using different forms and techniques… I could go on and on!
The book has been lavishly illustrated by Chris Riddell. The little mouse who appears on the cover sits reading on each mini-biography page introducing the next poet. Remove the dust jacket and there are more mice on shelves showing poetry books by the poets within the collection - an excellent starting point for further poetic exploration! Simply wonderful! There aren't enough stars for this one!
576 pages / Reviewed by Sue Wilsher, teacher
Suggested Reading Age 7+
Other titles