The Blue-Footed Booby (paperback)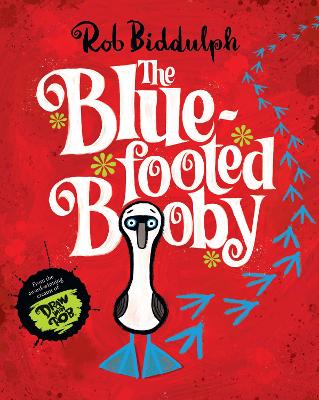 By Author / Illustrator
Rob Biddulph
Genre
Picture Books
Age range(s)
3+
Publisher
HarperCollins Publishers
ISBN
9780008413408
Format
Paperback / softback
Published
16-02-2023
Synopsis
The newest picture book written and illustrated by the bestselling and award-winning Rob Biddulph, the creative star behind the viral and phenomenal #DrawWithRob!
Let's follow the footprints!
Let's hunt for some clues!
Left footprint! Right footprint!
No time to lose!
As everybody knows, Red-Footed Boobies are fabulous bakers. But when Desmond's frangipane tart goes missing amidst a flurry of footprints, the Blue-Footed Booby becomes the chief suspect. But all is not as it seems...
Featuring one of the stars of Draw With Rob (video number 24), this is a gloriously silly rhyming story about the perils of jumping to conclusions. Perfect read-aloud fun for children aged 3+!
Singalong with Rob Biddulph, who introduces The Blue-Footed Booby
Reviews
Amanda
I completely agree with the book jacket which says, 'This gloriously, silly rhyming story about the perils of jumping to conclusions is perfect read-aloud fun for children young and old.' 
In The Blue-Footed Booby, we follow the clues left by a thief who is stealing all of the red-footed boobies' fabulous bakes. Just where did Desmond's frangipane, Maureen's doughnuts, Rod's black forest gateau and all of the other cakes go? Follow the blue-footed booby bird's footprints to see what secrets they hold.
This story is sure to become the latest in a long line of Rob Biddulph bestsellers. The rhymes draw the reader in and makes it very easy to listen to. The illustrations are clear, carefully detailed and demonstrate Rob's fantastic use of colour. In a classroom, this beautiful picture book could be used in many ways including; identifying rhyme, the importance of finding out all of the information before making any decisions, and in art, the use of line and colour to name a few.
Following the link to 'Draw with Rob' allows you to feel part of the story and would enable you to make a fabulous display of the children's drawings. I am sure that this will be a bedtime story which is learnt off by heart in many homes and one which will have a waiting list in the school libraries. A recommended read. Well done Rob, another absolute banger of a book.
Picture book / Reviewed by Amanda Shipton, teacher
Suggested Reading Age 3+
Other titles