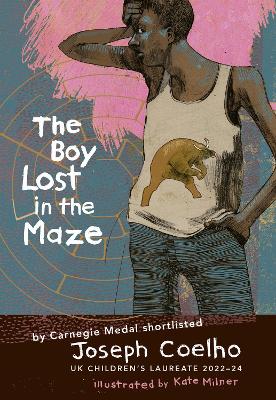 By Author / Illustrator
Joseph Coelho, illus Kate Milner
Genre
Myths & Legends
Age range(s)
11+
Publisher
Otter-Barry Books Ltd
ISBN
9781913074333
Format
Hardback
Published
06-10-2022
Synopsis
In his new verse novel, Joseph Coelho brilliantly blends Greek myth with a 21st century quest. In Ancient Greece Theseus makes a dangerous and courageous journey to find his father, finally meeting the Minotaur in the Labyrinth. While Theo, a modern-day teenage boy, finds himself on a maze-like quest to find his own father. Each story tells of a boy becoming a man and discovering what true manhood really means.
The path to self-discovery takes Theo through 'those thin spaces where myth, magic and reality combine'. Doubts, difficulties and dangers must be faced as Theo discovers the man he will become.
Poet Joseph Coelho reads from the first poem, Oracle
Reviews
Clare
Acclaimed poet Joseph Coelho seamlessly binds myth and reality in this spellbinding new verse novel. A poetic retelling of the story of Theseus and the Minotaur, and Theseus's quest to find his father, runs parallel with a contemporary story of a teenage boy and his absent father.
In Ancient Greece, Theseus is sent on a mission to conquer villainous beasts and prove his worth as a man, while in modern London Theo uses all his guile (and the internet!) to track down the man whose absence has loomed large in life and without whom he feels lost and deprived. As these two mirroring stories progress, each boy seeks to understand what manhood really means.
Coelho's book is an immersive read that skilfully merges ancient and modern stories with a common theme at their core. Theo and Theseus both battle demons in their own way and discover how far they are prepared to go to complete their quests. There is a clever blend of myth and reality and the reader is further drawn into the book by being given the option of where to take the story in 'choose-your-own-adventure'-style invitations. The haunting illustrations are also hugely evocative.
A moving and powerful book that explores timeless themes in a fresh and affecting way.
320 pages / Reviewed by Clare Wilkins, school librarian
Suggested Reading Age 11+
Other titles