The Boy Who Didn't Want to Die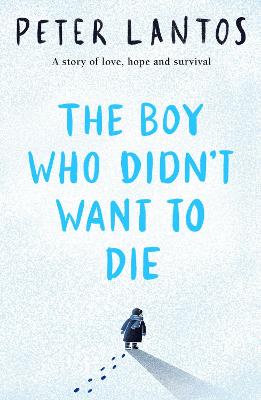 By Author / Illustrator
Peter Lantos
Genre
Historical Fiction
Age range(s)
9+
Publisher
Scholastic
ISBN
9780702323089
Format
Paperback / softback
Published
05-01-2023
Synopsis
A story of survival, of love between mother and son and of enduring hope in the face of unspeakable hardship. The Boy Who Didn't Want to Die describes an extraordinary journey, made by Peter, a boy of five, through war-torn Europe in 1944 and 1945. Peter and his parents set out from a small Hungarian town, travelling through Austria and then Germany together. Along the way, unforgettable images of adventure flash one after another: sleeping in a tent and then under the sky, discovering a disused brick factory, catching butterflies in the meadows - and as Peter realises that this adventure is really a nightmare - watching bombs falling from the blue sky outside Vienna, learning maths from his mother in Belsen. All this is drawn against a background of terror, starvation, infection and, inevitably, death, before Peter and his mother can return home.
Author Professor Peter Lantos is a Fellow of the Academy of Medical Sciences and in his previous life was an internationally renowned clinical neuroscientist. His memoir, Parallel Lines (Arcadia Books, 2006) was translated into Hungarian, German and Italian. Closed Horizon (Arcadia, 2012) was his first novel. Peter was awarded the British Empire Medal in 2020 for 'services to Holocaust education and awareness'. He is one of the last of the generation of survivors and this - his first book for children - will serve as a testimony to his experience. Peter lives in London.
REVIEWS OF THE BOY WHO DIDN'T WANT TO DIE:  "A gripping story of love, courage and triumph over evil" - The Bookseller. "Can, and should, be read by an audience of any age." - Jewish News. "The book [is] absolutely compelling, partly because it is a true story of extraordinary resilience and survival in unimaginable circumstances, but also because Lantos' stark recollections make very powerful reading." Gaby Wine, The Jewish Chronicle
Reviews
Stephen
From one of the last holocaust survivors living in the UK comes a touching and insightful story of one boy's experiences of living through the holocaust. Five-year-old Peter didn't realise how his life was about to change in March 1944. As the Nazis invade Hungary, Peter, his family and the other Jews in the town find themselves moved into a ghetto in Mako, before facing an arduous journey that will ultimately take them to the Bergen-Belsen concentration camp in Germany. Always inquisitive, Peter tries to make sense of the world around him as everything he knows in his life changes, and he and his family have to survive in conditions he could never imagine.
The Boy Who Didn't Want To Die is a fascinating and moving true story of a young boy's journey through the holocaust, told by holocaust survivor Peter Lantos, recollecting what happened to him and his family from 1944 till he starts school again in 1946. The story, from Peter's perspective, is told in a very matter of fact way which many youngsters have, and being told from a young person's perspective, I found this made the book very accessible and still very informative. Younger readers who may not have any knowledge of the holocaust will find this an excellent introduction to the topic because of this.
I liked the way young Peter asked questions of his parents about what was going on and they gave very honest answers which gives the reader enough information to know what's going on without being overloaded. Descriptions are never graphic, yet I could still feel the claustrophobic interior of the train carriage when it was standing room only, and I shared Peter's horror at seeing the latrine for the first time in Bergen-Belsen.
While this is Peter's story, his mother comes across as an amazingly strong woman, with a shrewd awareness of what is going on and a drive to do everything she can for the survival of her family. There are heartbreaking moments in the story, and for me I found the section where Peter and his mother find out which family members haven't survived the war very moving.
The Boy Who Didn't Want To Die is a reminder of the impact the holocaust had on just one family, which younger readers may better relate to and understand than just talking about deaths in the millions. What also makes this book an excellent introduction to the holocaust are the photos, maps, list of places and glossary that form part of it. While helping the reader better understand what was happening in Peter's story, they also help make the book feel very personal, and help make this book an excellent resource to use in schools, particularly with middle and upper primary age children. Also included is a 'What Happened Next' about what happened to Peter and his family after 1946. It finishes the story off nicely. Recommended.
224 pages / Reviewed by Stephen Leitch, school librarian
Suggested Reading Age 9+
Other titles