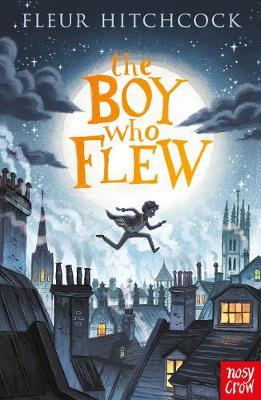 By Author / Illustrator
Fleur Hitchcock
Genre
Historical Fiction
Age range(s)
9+
Publisher
Nosy Crow Ltd
ISBN
9781788004381
Format
Paperback / softback
Published
07-03-2019
Synopsis
A vivid adventure filled with danger and heroism from the author of Murder in Midwinter. Athan Wilde dreams of flight. When his friend, Mr Chen, is murdered, Athan must rescue the flying machine they were building together and stop it falling into the wrong hands. But keeping the machine safe puts his family in terrible danger. What will Athan choose - flight or family? From the acclaimed author of Murder In Midwinter, Fleur Hitchcock's The Boy Who Flew is a thrilling, murderous tale set among the steep rooftops and slippery characters of Athan's intricately imagined world. Perfect for fans of Philip Pullman, Peter Bunzl and Philip Reeve.
Reviews
Megan

- Age 11
The Boy who Flew was an incredible read and I couldn't have wished for more. Although, like with most great books, I really did wish there was more of it to read!

If I'm honest, I wasn't sure at first but Fleur won me around with her stellar writing- it got interesting!! Within a copy of chapters I was absolutely hooked. One night the intrigue was coming so thick and fast that I read 15 chapters and stayed up well passed my bed time!

There were so many times that I cried, screamed and laughed. There are so incredibly tense moments and you feel fully immersed in the story. There was no chance to catch my breath between emotions and I loved every minute of it.

With everything that went into this amazing book, I really have to thank Fleur for such a heartfelt story. A thrill for all.
Suggested Reading Age 9+
Donna
Athan Wilde is a boy with a dream. Working alongside the mysterious Mr Chen, he learns to use his imagination and skill to create an array of inventions. Here his inability to read does not inhibit his desire to learn. Together they work on a flying machine, the first of its kind.

With the sudden and gruesome death of Mr Chen, Athan knows that he must protect the plans and parts of their machine. Working with those he can trust, Athan has to find a way to complete the project whilst fiercely protecting it from getting into the wrong hands. With a huge sum of money being offered for the first to fly, the stakes are high. Athan is pushed to the limits as he fights to protect his family, his life and his dream.

The Boy who Flew is a fast paced book that races the reader through the twists and turns of its plot. Readers will be on the edge of their seats wanting to know what will happen next and whether Athan can finally achieve his dream or be thwarted by those that are out to stop him.

This book would be good for age 9+. As a class teacher I found that the book provided an excellent resource to show characterisation with its wide array of strong characters portrayed through their physical description, mannerisms, movement and voice. A great way to teach children how to 'show' the character rather than tell the character. It could also link well to dealing with dangerous situations and who to trust.

256 pages / Reviewed by Donna Burket, teacher.
Suggested Reading Age 9+
Matt

- Age 9
Athan works for the enigmatic Mr Chen, a man determined to unravel the mystery of flight. But when his mentor is brutally murdered, it falls on Athan to rescue the flying machine they have been secretly working on. Little does he realise, but his actions are putting his whole family in danger.

Fleur Hitchcock is best known for her excellent children's thrillers, such as Murder In Midwinter. As such, I was eager to read her latest offering - a blur of science and history, set among the rooftops of Victorian England. The Boy Who Flew is promoted as being perfect for fans of Peter Bunzl (Cogheart trilogy) and Phillip Reeve (Mortal Engines), which only added to my excitement.

However, the book didn't instantly live up to my expectations. For some reason, I wasn't grabbed from the outset. In fact, the opening chapter - beautifully written as it is - seemed a little convoluted. This is a sentiment that was echoed by a few young readers who I shared the chapter with.

Still I persevered and thank goodness I did. After about 10 chapters, the pace picked up rapidly transforming the book into an out and out thriller. By now, Hitchcock was on home territory, layering chapter upon chapter of excitement, mystery and danger. It turns into a real page turner, with seemingly every chapter ending on a cliffhanger.

And then there's the glorious characters. Hitchcock has almost perfectly replicated the cast from a Dickensian novel. There's our hero, Athan, and his struggling family, the invalid sibling and the mischievous best friend. Then, of course, there's the sinister villain Colonel Blade. What a character he is!

There is so much going for this book. Please persevere with those opening chapters while the scene is set. Then strap yourself in for the flight of your life!

256 pages / Ages 9+ / Reviewed by Matt Davies, teacher.
Suggested Reading Age 9+
Other titles