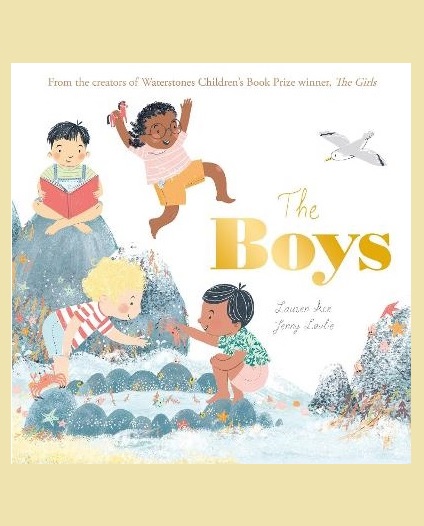 By Author / Illustrator
Lauren Ace, Jenny Lovlie
Genre
Personal Growth
Age range(s)
5+
Publisher
Little Tiger Press Group
ISBN
9781838914172
Format
Paperback / softback
Published
14-04-2022
Synopsis
The boys had been friends for as long as they could remember and a little while before that. They were like brothers.   
Follow the adventures of Tam, Rey, Nattie and Bobby - four boys who share a friendship that will last a lifetime.  From playing on the beach as babies to navigating the journey from childhood to adulthood, this beautifully illustrated picture book explores the importance of male friendships. Emotive storytelling by Lauren Ace gently presents themes of individuality, grief, togetherness and feelings, while Jennie Lovlie's stylish artwork delicately presents the difficulties and triumphs of growing up. 
This is the perfect book for young readers who are facing big changes, and opens up discussions about school-life and the future.
"The book is at pains to show non-stereotypical images of boys and men... and manages to be not only insightful but affecting." - Financial Times
Reviews
Maria
The Boys is a fantastic tale of four close friends - Tan, Rey, Nattie and Bobby. The story follows the four boys, each with their own individual personality and interest, from their early childhood where they would spend their time playing together at the beach. The beach was their special place where they would play, learn, spend their days and build their friendship.
One sad spring day, the growing boys return to the beach to discover it has changed. The tides and storms have altered the area by shifting sand and revealing hidden rocks. Everything is different. Similarly, these growing boys are discovering that, as they grow older, life was becoming different. Teamwork was becoming competitive, new relationships were forming and their time was being spent entertaining and being with others. And just as the sea swept away their familiar memories, they began to feel that alone, they too were swept out to sea.
Learning that talking and listening is key to facing problems, the close knit boys resolved their differences and began rebuilding their friendship, making it stronger than ever. The strong, understanding friendship now meant that even though they had their own, individual lives, they always had each other for support when it was needed. And just like the waves returning to the shore, the friends knew their friendship would always bring them back together.
The Boys provides a great platform for learning from. Not only does the story perfectly demonstrate friendships and the struggles of maintaining them as you grow older, but also through the illustrations it shows many other social and multicultural topics. For example; the boys are all of different race and where a wedding is illustrated it is a same sex ceremony.
This truly is a must-have text for any classroom. The story is meaningful and relevant to all children and a great teaching tool for why friendships are important. It will also begin a great discussion on the different types of friendships with just boys, just girls, and a combination of boys and girls. As one little girl said.. This is four boys but is not for boys!
Picture book / Reviewed by Maria Faithorn, teacher
Suggested Reading Age 5+
Other titles