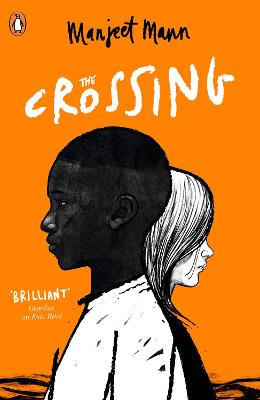 By Author / Illustrator
Manjeet Mann
Genre
Representation & Inclusion
Age range(s)
14+
Publisher
Penguin Random House Children's UK
ISBN
9780241411445
Format
Paperback / softback
Published
03-06-2021
Synopsis
The trailblazing new novel from the Carnegie Medal shortlisted author of Run, Rebel.

A trailblazing new novel about two teenagers from opposite worlds; The Crossing is a profound story of hope, grief, and the very real tragedies of the refugee crisis.

Natalie's world is falling apart. She's just lost her mum and her brother marches the streets of Dover full of hate and anger. Swimming is her only refuge.

Sammy has fled his home and family in Eritrea for the chance of a new life in Europe. Every step he takes on his journey is a step into an unknown and unwelcoming future.

A twist of fate brings them together and gives them both hope. But is hope enough to mend a broken world?
Reviews
Sharon
On the face of it who would think that Natalie in Dover, and Sammy in Eritrea, have any common ground? Certainly not the right wing groups protesting about the refugees landing on the Kent coast.  The Crossing is a well-crafted verse novel which explores the many facets of the refugee experience and does not hold back.
Natalie, in Dover, is recovering from the loss of her mother, whilst her Dad struggles to make ends meet and her older brother Ryan finds solace in dubious circumstances. She is used to the background of racial tension; her mum was a refugee support worker and an advocate for speaking up for the rights of refugees. At school, however, Natalie feels conflicted when she does not like the way a classmate - Fazel - is treated by the class bully but also does not want to speak out for fear of retribution.
Whilst trying to cope with her own emotions about her mum, Natalie becomes more concerned as it appears that Ryan is becoming radicalised by an anti-refugee group. Her developing relationship with Mel starts to show the strain as homelessness looms for Natalie's family. She has an enormous amount of pressure building upon her.
Meanwhile Sammy, whilst hiding from the military in Eritrea, heard his father being shot and witnessed his death; he lives with his mother in fear of being found and conscripted like his sister was. He knows there is no future for him in Eritrea and they scrape together the funds for him to make his way to the UK. He and his friend Tesfay are both excited and scared by the prospect of the lengthy and perilous journey.
As they set out upon their journey, Sammy and Tesfay soon learn that their fears are to be realised; kidnapped and held to ransom, undertaking a horrific sea journey and then suffering indignity wherever they arrive, the path to Europe and then the UK is not a smooth one. Mann describes the harrowing details with both empathy but also clarity providing a hard hitting portrayal of a refugee's plight.
Natalie decides to undertake the Cross Channel swim that her mum had always planned to do. Knowing she is keen to continue her mum's aim of helping refugees, she decides to raise money for a refugee charity. A chance encounter, brief and from the distance in a Calais refugee camp, sees Natalie and Sammy understanding there is a link between them.
This is a beautiful book that I read in one sitting. It is an emotional read and I applaud Manjeet Mann for her attention to detail and not holding back. Definitely one to have the tissues to hand for.
310 pages / Reviewed by Sharon Bolton, school librarian
Suggested Reading Age 14+
Other titles