The Day the Screens Went Blank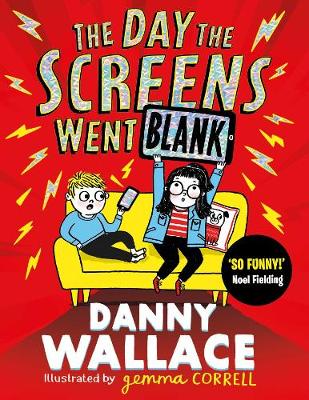 By Author / Illustrator
Danny Wallace, Gemma Correll
Genre
Funny Stories
Age range(s)
7+
Publisher
Simon & Schuster Ltd
ISBN
9781471196881
Format
Paperback / softback
Published
18-03-2021
Synopsis
When ten-year-old Stella wakes up to discover a world full of BLANK screens, her family, town, and in fact the whole world seems to have been thrown into chaos. And what about poor Grandma who is stranded at the other end of the country?

Cue a rollicking madcap road trip, full of driving disasters and family fallouts, as they set off on a rescue mission. And along the way Stella and her family discover that being away from screens might not be the WORST THING EVER, and even though they might not be able to rely on technology anymore, they can rely on each other instead.
Reviews
Jennifer
The Day the Screens Went Blank is a laugh out loud adventure about the world changing overnight that is utterly fitting for our current times.
Technology seems to have quit overnight; the TV/Computer/Phone screens are dead and no one (least of all the adults) seems to know what to do. This is a hilarious, witty and lively road trip like no other for Stella and her family trying to make it cross country to 'rescue' Grandma who is all alone in this time of techno failure. The world seems in chaos without any digital back-ups and gadgets. How will Dad drive the car without the aid of Sat Nav for a start? How will little Teddy cope with a Ipad-less car journey ? There are some truly comedic scenes along the way and brilliantly drawn illustrations by Gemma Correll that bring the laughs to life.
I am currently reading this as a class novel with a Y6 class and they are loving the family dramas and tensions as Stella's mum and dad try to stay in control of events. Stella's voice, as she observes and comments on the dynamics, is a huge hit with them ! Stella's family are so relatable and endearing and we have sympathy and empathy for every single member and their various breaking points along the journey.
There is such a warm hearted and positive feel to the story that, although it makes the reader stop and think "what if...", the story is also full of fun, kindness and of our ability to rise to the challenge and adapt. As strangers help out the family and connect with them, we see Stella's family themselves reconnecting with each other and, without digital distractions, discover the strength (and joy) they have in relying on each other.
240 pages / Reviewed by Jennifer Caddick, teacher
Suggested Reading Age 7+
Other titles