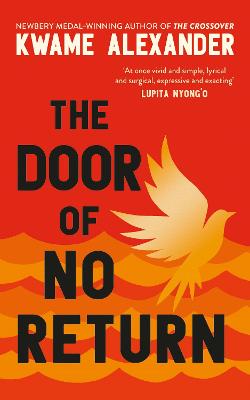 By Author / Illustrator
Kwame Alexander
Genre
Historical Fiction
Age range(s)
11+
Publisher
Andersen Press Ltd
ISBN
9781839133244
Format
Hardback
Published
02-03-2023
Synopsis
Dreams are today's answers for tomorrow's questions. 11-year-old Kofi Offin has dreams of water, of its urgent whisper that beckons with promises and secrets. He has heard the call on the banks of Upper Kwanta, West Africa, where he lives. He loves these things above all else: his family, the fireside tales of his father's father, a girl named Ama, and, of course, swimming. But when the unthinkable - a sudden death - occurs during a festival between rival villages, Kofi ends up in a fight for his life. What happens next will send him on a harrowing journey across land and sea, and away from everything he loves. Yet Kofi's dreams may be the key to his freedom...
The #1 New York Times bestseller.  'At once vivid and simple, lyrical and surgical, expressive and exacting' Lupita Nyong'o
Reviews
Eileen
The Door of No Return is, according to Alexander himself, "the hardest book I've ever written" and it is, undoubtedly, a masterpiece. Ambitious and accomplished in scale and in scope, it works on three levels: as the story of one boy and his family growing up in a small West African village, as the chronicle of an epic journey across the ocean to a new world, and as an important and honest insight into the beginnings of the African-American story.
11-year-old Kofi lives in Upper Kwanta in the Asante Kingdom (present-day Ghana). He loves his family, an orphan girl called Ama 'who makes his stomach wobble', the fireside stories and games of his grandad, Nana Mosi, the village storyteller, and swimming in the waters which whisper their secrets to him. Kofi's childhood is brought to an abrupt end when his older brother is blamed for a tragedy in a wrestling match at an annual festival between rival villages. Violence and terrible punishments follow, with Kofi forced out of his village and sent away from everything he loves to a harsh new world aboard an American slave ship.
The verse novel form lends an immediacy and urgency to the storytelling and builds a real empathy between reader and character. Kofi is an endearing, innocent, loveable protagonist. We are pulled into his life and propelled through the story alongside him, becoming completely invested in his story and the way it unfolds. Kofi's story is firmly rooted in the history and traditions of the Asante people with evocative descriptions of the natural landscape, liberal use of Twi phrases and African proverbs and with beautiful Adinkra symbols placed at the beginning of each section to foreshadow the action.
While the guileless Kofi wonders why his teacher canes him for speaking Twi and spends so much time teaching British history and Shakespeare rather than the history of his own kingdom, alert readers will immediately spot the emerging influences of colonialism and cultural oppression. Alexander never shies away from the harsh truths of history. He tackles huge themes like war and hate, conflict and cruelty, and man's inhumanity to man at a level appropriate to his target audience, making them palatable and threading Kofi's story though with messages of resilience, kindness and, always, hope.
The Door of No Return is a stunningly crafted novel in verse which informs as it engages. Every detail matters, from the importance of story to the symbolism of the water. It's not an easy read but it is an affecting and unforgettable one. Not a single word is wasted in the storytelling. The ending is heartbreaking, gut-wrenching and brutal but, despite everything, hopeful.
This is, fortunately, the first book of a trilogy and I cannot wait for it to be continued. One of those books you just can't stop thinking about, it definitely repays re-reading. It deserves to be on every library reading list, would work brilliantly as part of the KS3 English curriculum and needs to be written into all History department schemes of work. Don't just buy one copy for your school - invest in class sets.
430 pages / Reviewed by Eileen Armstrong, school librarian
Suggested Reading Age 11+
Stephen
The Door of No Return by Kwame Alexander is a powerful and stunning verse novel set in the heart of the Ashanti Kingdom in Africa in 1860.  The story follows Kofi Offin, an 11-year-old boy who has an affinity with water, and especially swimming in the Offin River - his friend Ebo claims "He is like a fish in the water". Family, friends and the fireside tales of his grandfather fill his days when he's not at school - where he is bullied by his older and larger cousin, also called Kofi. When his brother announces that he has been selected to participate as a wrestler in the forthcoming Kings Festival contest between the villages of the Upper and Lower Kwanta, Kofi and his family are delighted - both pride and gold are at stake! But the outcome of the final wrestling match will have deadly consequences that will change Kofi's life forever. 
The Door of No Return is a beautiful yet stark piece of storytelling - immediate and breathtaking, emotional and real, showcasing the verse novel at its best. I felt this was a window into a time and culture I knew very little about and it left me wanting to know more. The stories Kofi's grandfather tells, and which start each chapter, are beautifully told, all starting "There was even a time". Whether a story about his birth, history or legend, they set the scene so well for what is to come. 
Kofi Offin is a character you can't fail but to like, full of enthusiasm and keen to know more in a world he doesn't fully understand yet. In fact for all its cultural and time period differences, many themes of the novel are very relatable to young people today - growing up, dealing with school, bullying, families, friendships and rivalries, standing up for what you care about and overcoming adversity.  There are beautiful descriptions  in the novel and for me those where Kofi is swimming in the river are exceptional, where the connection between boy and water is palpable. 
The novel is full of Ashanti culture and language and though it is historical fiction, the author has used the history of the Ashanti people in the area roughly corresponding to Ghana as the basis of the novel. There is a glossary to help translate the Twi words that pepper the novel, a map to follow the adventure on and a guide to places used. Each chapter also starts with a traditional Adinkra symbol used by the Ghanaians  which have meanings linked to the chapter to come (their meanings are described in the back of the novel).
Slavery and slave trade does feature in this novel and I found this section of the story really interesting and at the same time harrowing, seeing how Kofi and others ended up in this situation and seeing it from the enslaved people's point of view. It is worth noting that there are scenes of and references to mutilation, death and abuse in the novel which is something to keep in mind if planning to use this novel with a class.
The Door of No Return provides many opportunities for class work, looking at the history of Ghana and history of the slave trade. There are lots of possibilities for discussion and reflection. Beautiful, stark, breathtaking and devastating with an ending that will have you holding your breath, this is a novel that will stay with you long after finishing. Highly recommended.
430 pages / Reviewed by Stephen, school librarian
Suggested Reading Age 11+
Other titles