The Drama Llama: A story about soothing anxiety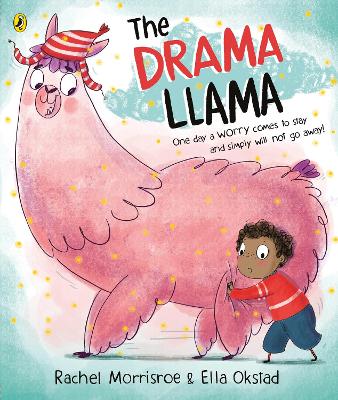 By Author / Illustrator
Rachel Morrisroe, illus Ella Okstad
Genre
Mental Health & Wellbeing
Age range(s)
3+
Publisher
Penguin Random House Children's UK
ISBN
9780241453001
Format
Paperback / softback
Published
14-04-2022
Synopsis
One day a WORRY comes to stay and simply will not go away!
"Whenever he was worried or whenever there was drama,
Alex Allen's brain produced . . .
A living breathing Llama!"

Alex Allen, like lots of children, sometimes worried about things - like dancing badly or getting an answer wrong in class. But unlike lots of children, every time he worries a real-life llama appears! And the more Alex worries, the bigger Llama grows... which starts getting him into all sorts of trouble!  Will Alex ever learn how to control his worries and get rid of this pesky llama?

This hilarious yet heartwarming rhyming tale from incredible new picture book talent Rachel Morrisroe and bestselling illustrator Ella Okstad offers practical advice about dealing with worry - whilst taking you along on the wonderfully riotous adventures of Alex and his mischievous llama.
Reviews
Lizi
Absolutely loved this book! Alex Allen has a very fast brain... but his brain also produces a Llama whenever he's worried about something! Usually, the llamas come and go quite quickly, but one day the Llama sticks around...it follows him everywhere and gets bigger and bigger before turning into a Drama Llama! Luckily, Alex's teacher realises that Alex needs help to handle his Llama and Alex realises that when he talks about his worries to a trusted adult, it makes his llama shrink and much more manageable.
The Drama Llama is a great book for talking to children about worries: that we all have them and that the best way to deal with them is to share them with someone we trust. It'd be great to share individually with children, or in an educational setting to link to PSHE or wellness. I shared the story with my preschooler who really seemed to grasp it, appreciating that the llama was naughty and how much better and happier Alex looked once he had shared his worries. The illustrations are charming, the story is engaging and easy for children to interpret - a great one for bookshelves everywhere!
Picture book / Reviewed by Lizi Backhouse, teacher
Suggested Reading Age 5+
Other titles