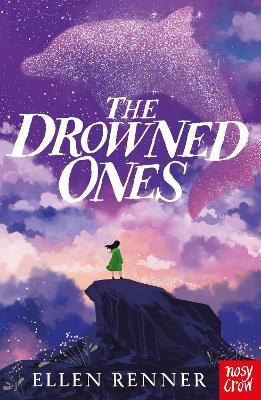 By Author / Illustrator
Ellen Renner
Genre
Fantasy
Age range(s)
9+
Publisher
Nosy Crow Ltd
ISBN
9781788000666
Format
Paperback / softback
Published
05-08-2021
Synopsis
The third in a gripping fantasy trilogy \"reminiscent of Ursula K Le Guin's Earthsea...\" GuardianThe Storm Witch trilogy is set in a world of islands, where Elemental spirits rule and pirates known as the Drowned Ones roam the seas. At the heart of the story is thirteen-year-old Storm, who is bestowed with great, but dangerous, magical powers.In this third story, Storm knows the balance of the world is under threat. If she can't stop the Fire Witch from carrying out her deadly plan, the Fire Elemental will reign supreme. She needs the help of the Drowned Ones, but the last time she saw them, they were trying very hard to kill her...With stunning cover illustration by Jedit.Have you read the other books in the Storm Witch trilogy? Storm Witch, Under Earth
Reviews
Nicola
I always come to the final book of a series with a mix of excitement at what lies ahead and sadness knowing that my journey through a new world with characters that I have grown to love is about to end. And this was no different. Storm Witch and Under Earth were both powerful books with much to think about long after the final page was read and the back cover closed. If you haven't read them, please do, as this is an amazing series that deserves to be read from beginning to end.
In The Drowned Ones, we meet Storm, captured by the Drowned Ones and a powerful fire-witch, without her magic and Scoundrel, the cling-monkey, her only friend. Storm is desperate to stop the Fire Elemental from reigning supreme with no regard for life.
From page one, we are once again immersed in the magical world created by Ellen Renner, with a cast of characters that seep under your skin, good and bad. The Elementals pass their wisdom and power through their chosen witches as the culmination of the trilogy marches to a breath taking conclusion. Tension mounts steadily as we hope that everyone makes it to the end as the biggest battle of all looms on the horizon. The isolated landscape adds to the sense of desperation that haunts Storm as she wonders how she is supposed to keep her world in balance.
Belief in oneself and higher beings flow through the story, once again giving much to think on after you have finished reading. I would love to have just a hint of Storm's courage and Mer's self-belief. Once again, we see opposing views find common ground for the greater good - a message that, if taken up by young readers, can only mean hope for the fractured world we find ourselves in. A compelling climax to a superb series, and one that should be read far and wide.
272 pages / Reviewed by Nicola Cleveland, school librarian
Suggested Reading Age 9+
Other titles