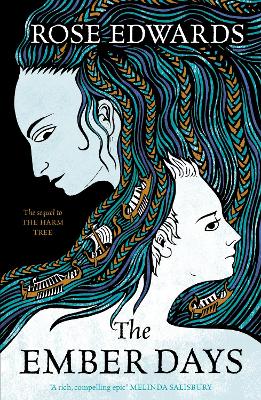 By Author / Illustrator
Rose Edwards
Genre
Fantasy
Age range(s)
14+
Publisher
UCLan Publishing
ISBN
9781912979158
Format
Paperback / softback
Published
07-10-2021
Synopsis
The long awaited sequel to The Harm Tree.
Exiled from a broken land, two friends try to escape the darkness they left behind them.
Together again, Torny and Ebba reach Vellsberg, an outpost of the Southern Empire, hoping for a safe haven. Instead, they find families driven by ambition, a strange young woman who doesn't seem to belong, and the bloody consequences of the Empire's attempt to control the north.
When Vellsberg is attacked, Torny and Ebba entrust themselves to Aisulu, a lone rider from beyond the eastern edges of the Southern Empire. Betrayed and pursued, they flee through a land succumbing to a strange plague. Invisible flames afflict the penitent, and whispers of a new Martyr and his False Disciple follow at their heels.
Unwilling to face the things they've done to survive, Torny and Ebba find themselves torn apart again. After all, what hope is there, when once you have been monstrous? What peace can there be, when you have betrayed your own?
Reviews
Linda
Well, this wonderful new author has done it once again, as she has turned out another epic adventure in this sequel book to The Harm Tree... After the drama and traumatic events of book one (which I highly recommend you read first) our two strong female protagonists, Ebba and Torny are back together and they are now hoping that the past will be far behind them, as they travel to Vellsberg for a safe place. However, things do not turn out to be that simple. Unknowingly they have been deceived and once again they find themselves on the run from powerful leaders and dark forces.
They have to trust a stranger, Aisulu, to guide them through this new territory. Who is she and why is she a lone rider? Does she have an alternative motive in helping these girls? As they flee through this land a strange disease seems to be following them, one of invisible flames and whispers of a martyr and his false disciple. Will they ever get to leave the past behind? Events once again tear the girls apart, they have no hope together, as one is betrayed by the other.
This well written and plotted fantasy adventure has a cast of many so is only suitable for the confident 12+ reader. The author has delved once again into the realms of Norse legends to bring a book full of twists and turns that will keep many readers fully engaged. Her wonderful main characters are likeable and relatable as they are going through many issues that young girls face such as; sexuality, puberty, love, trust and friendship. The Ember Days is well worth the read, yet another favourite of 2021. Keep an eye out for this author, I've a feeling she has many more epic fantasies in her marvellous imagination for the YA reader.
432 pages / Reviewed by Linda Brown
Suggested Reading Age 11+
Other titles