The First Thing About You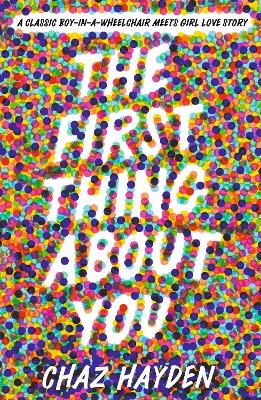 By Author / Illustrator
Chaz Hayden
Genre
Representation & Inclusion
Age range(s)
14+
Publisher
Walker Books Ltd
ISBN
9781529510942
Format
Paperback / softback
Published
01-09-2022
Synopsis
Fans of John Green, Sara Barnard and Adam Silvera will love this contemporary YA that is packed with humour and heart.

A high school student with spinal muscular atrophy is determined to reinvent himself.  When new-boy Harris meets cute-girl-in-his-class Nory, he is determined to prove he is more than just the kid in the powered wheelchair. Luckily, he has a secret weapon. His new nurse Miranda.  Beautiful and confident, Miranda sees Harris for who he really is - funny, smart and totally worthy of Nory's affections. It seems everything is working out for Harris for once. But Miranda has her own demons, and Harris starts to wonder if she has his best interests at heart.

PRAISE FOR THE FIRST THING ABOUT YOU:  "A beautifully empathetic novel that makes you look at the world differently." Phil Earle, author of When the Sky Falls.  "A witty, candid take on love, friendship, belonging, and disability." Kirkus.
Reviews
Stephen
A move to New Jersey for 15 year old Harris and his family means a new school and a new start. Harris wants to reinvent himself as a typical teenager and not just be seen as the boy in a powered wheelchair. On his first day at his new high school with his mum as carer, Nory bumps into his wheelchair and Harris is smitten by her, and when the two end up as homework buddies Harris feels more drawn to her - even though he won't tell him her favourite colour. Harris judges people as potential friends based on their favourite colour, and Nory's refusal to tell him makes her all the more enigmatic and attractive - but what should he do about it! When his new carer Miranda arrives on the scene things feel like they are beginning to change for Harris as Miranda is young, confident, outgoing and sees Harris for the person he really is - and his affections for Nory! Together the two of them form a formidable duo, but Miranda has her own past to deal, and Harris soon learns that people's colours don't stop the mistakes, awkwardness and insecurities of growing up.
What an great debut novel by author Chaz Hayden who, like Harris in the story, has spinal muscular atrophy (SMA). It really is a 'high school boy in a wheelchair meets girl' love story, full of all the feelings, insecurities, longing and awkwardness that teenagers experience growing up, especially from a boy's point of view - with a wheelchair, disability and occasional mum accompanying you to school in the mix too!
Harris is such a driven character determined to get on with life, with any adaptations for his disability just written as part of the story, not being highlighted as something peculiar or different - it's just part of his life. That's not to say his character isn't without its faults, especially with his interpersonal skills as characters Zander and Nory find out! Zander is a character I liked. He's welcoming, loyal and Harris's first friend at school, and sits at the 'refuge for the lost' table in the canteen - something I can very much relate too! It takes Harris a long time to really appreciate the friend he has in Zander and I found myself rooting for their friendship as much as for Harris and Nory's.
I found some parts of the novel insightful especially when Harris is being treated for various aspects of SMA. Harris's knowledge of and interest in American football finds him a way to be part of the football crowd at school, perhaps a reminder if one was needed that a disability is only one part of a person. Miranda, who becomes his carer, is a real contrast of a character to Harris and a breath of fresh air for him as far as his carers go, with a very positive and perceptive personality. She's not a traditional carer stereotype and she's not subtle with her impulsive comments and suggestions as Harris finds out, and which drives their friendship in both positive and negative directions.
The novel is set in America and there are a few references to school terms which may be unfamiliar to UK readers like sophomore and freshman year. The varying chapter lengths help the novel move along at pace. I found the inclusion of phone messenger conversations a great way of adding variation to the chapters, too. Ultimately this is a very enjoyable novel about teenagers growing up, fitting in, belonging, friendship, family and disability. It's full of heart and humour with teen and school situations many will relate to.
368 pages / Reviewed by Stephen, school librarian
Suggested Reading Age 14+
Other titles