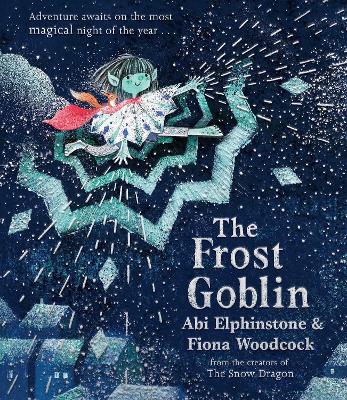 By Author / Illustrator
Abi Elphinstone, illus Fiona Woodcock
Genre
Magical Realism
Age range(s)
5+
Publisher
Simon & Schuster Ltd
ISBN
9781471199813
Format
Hardback
Published
27-10-2022
Synopsis
"The deepest frost has the power to rekindle hope in anyone who's lost it..."

In Bertie Crash-Wallop's noisy family, it can sometimes feel like there is no room for a quiet boy like him. But when Bertie meets a family of goblins on the night of the deepest frost, is it possible he might make some magic and discover his own place in the world?  Join Bertie and the Frost Goblins on an exciting adventure in this beautifully moving story by the bestselling author of Sky Song and The Unmapped Chronicles, Abi Elphinstone, and renowned illustrator Fiona Woodcock. The perfect book for frosty winter's nights and cosy Christmas mornings.

Also by Abi Elphinstone & Fiona Woodcock:
The Snow Dragon
Reviews
Amanda
'Now, there is a tipping point in every adventure... a point where you either feel too frightened to go on or too curious to turn back.' In Bertie Crash-Wallop's noisy family, it can sometimes feel like there is no room for a quiet boy like him. Then Bertie discovers a family of goblins on the night of the deepest frost.
In The Frost Goblin, Abi Elphinstone has created the perfect story to read as you are snuggled up next to the fire on a cold winter's evening. The detail assaults all of the senses and enables you create a complete picture of the world that Bertie finds himself in. From the unmistakable smell of melted chocolate, frost clinging to the drainpipes, to the look of rooftops in the sky like overturned ships, the descriptions are beautiful and supported with illustrations throughout by Fiona Woodcock.
We find out where goblins live and what they eat, how they live and how their faith in a seven-year-old boy can change the way that he views his place in the world in this beautifully moving story. Can Bertie help the Frostgobble family scatter their frost magic before it is too late? Can the goblins show Bertie what it means to belong and be loved?
This is a wonderful story for those extended story times and will be cherished by many for a long time to come. A pleasure to read a new story which contains true magic.
64 pages / Reviewed by Amanda Shipton, teacher
Suggested Reading Age 5+
Other titles