The Girl and the Dinosaur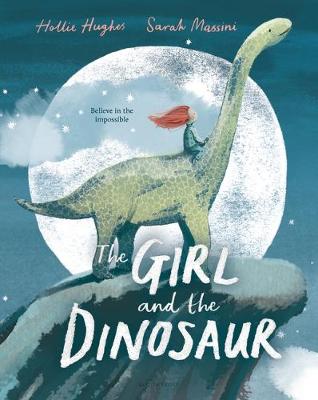 By Author / Illustrator
Hollie Hughes, Sarah Massini
Genre
Friendship
Age range(s)
5+
Publisher
Bloomsbury Publishing PLC
ISBN
9781408880548
Format
Paperback / softback
Published
03-09-2020
Synopsis
A masterpiece of storytelling with evocative and stunning illustrations, destined to be read for years to come.The wishing stars burn bright tonight, the air is thick with dreams,And a deeply sleeping dinosaur is waking up, it seems . . . In a town by the seaside, Marianne is often seen foraging on the beach. But she isn't playing with children her own age. Instead Marianne is alone, and digging for dinosaur bones to build a special sort of companion. Then, one night, she goes to sleep wishing with all her heart that her dinosaur might come to life . . . A very rare and special book where the words and pictures take you on a magical journey far beyond the page.
Reviews
James
A very special book - now in paperback - that you will treasure for a long time. Hollie Hughes and Sarah Massini have outdone themselves with this one! The author is a mother of three and it shows when you read this book. It is perfectly curated in line with both the tastes of children and adults. The illustrations by Sarah Massini give the reader a visual treat with each page turn. I love the painted look to the illustrations: the use of softer tones contrasts with the piercing red hair of the protagonist throughout the book.
The Girl and the Dinosaur tells the story of Marianne, a girl in a small fishing village who plays alone, digging in the sand on the beach. The fishermen express concern regarding her lack of friends. Marianne soon unearths some bones which sparks her imagination, and thus ignites the storyline. It makes me wonder about the name, Marianne, does it pay homage to the famous fossil collector and paleontologist, Mary Anning?
The story unfolds as Marianne casts a wish upon the stars for her bony friend to come to life. Then the reader is taken on a journey to discover a secret land; a magical party place where children and the creatures from their dreams come to life: a place not for 'grown-up heads'. Unfortunately, daylight beckons and children are returned to back to their beds. We are finally brought harmoniously full-circle and return to the opening scene. However, this time Marianne is not alone. There are lots of children on the sand digging for their own bony friends in a bid to make more secret memories in the magical night sky land.
My own children loved this story and so did my class. They loved the mixture of dinosaurs, imaginary friends, flying through the sky and secret party lands. I would recommend this for all children aged 3 years up. This is definitely a story you will treasure and want to go back to time and time again.
Picture book / Reviewed by James Hewish, teacher
Suggested Reading Age 3+
Other titles