The Girl in Wooden Armour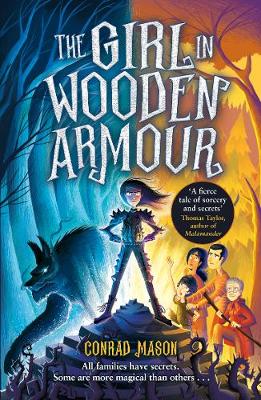 By Author / Illustrator
Conrad Mason
Genre
Fantasy
Publisher
David Fickling Books
ISBN
9781788451963
Format
Paperback / softback
Published
01-04-2021
Synopsis
When Hattie visits her granny for the first time in years, she's not sure what to expect. Granny has always been unusual. Now she's gone missing without trace.Hattie is determined to find her. But in the strange little village where Granny lives, nothing is as it seems. Is magic real here? What is the shadowy place known as the Un Forest? And who is the mysterious girl in wooden armour?One thing is certain. An ancient evil is stirring in Brokewood-on-Tandle... and only Hattie can stand against it.
Reviews
Jo
The Girl in Wooden Armour is a vividly written fantasy story, jam-packed with exhilarating action. The pace and suspense created by Conrad Mason will have readers gasping for breath as they follow Hattie Amiri-Gavell on her unplanned adventures in the seemingly quiet village of Brokewood-on-Tandle. Visiting their Granny for the first time in many years, Hattie and her young brother, Jonathan, are concerned to arrive at her house to find the front door ajar and the house empty. Hattie senses that something is wrong and it is from this point that the tale takes a sinister turn. Granny has been drawn into the strange, unearthly world of the Un Forest, where terrifying creatures lurk and the Hollow King and Queen reign.
Take nothing for granted in this book as nothing is quite as it seems. A retirement home is far more than it appears and its residents are full of surprises. The nearby countryside, although beautiful and tranquil, holds sinister secrets of its own as Hattie soon discovers as she ventures into the depths of the 'Un Forest'. The goings on in the land of the Un Forest are described in intense and rich language. Strange, grotesque creatures shriek and fly and must be defeated. The action packed scenes, balanced with the vivid descriptions of the larger than life inhabitants of the UnForest, will have readers turning pages long after lights out.
Hattie, unknowingly, is to be the heroine fuelled by determination, honour, love and loyalty. Through her brave and bold decisions, Hattie learns about herself and about the mother that she has lost and longed for. Family ties and buried secrets emerge as the rapid action unfolds and this adds a softer touch to an explosive tale.
Conrad Mason has invented strong characters with quirks and failings and who will endear themselves to the reader - it will be hard to forget a granny who talks to a stuffed squirrel going by the name of Bradley Cooper! But most memorable of them all is Hattie. She is courageous and determined. She is at times lost and sad but never sorry for herself. Throughout the story she grows in character, she discovers truths, acknowledges her grief and finds her true identity. Hattie is loyal, loving, brave, believable and likeable.
The Girl in Wooden Armour contains all of the elements of a truly thrilling adventure story blended perfectly together. Mystery, peril, fantasy, family and plenty of excitement mean that it is destined to fly from book shelves and is set to be a firm favourite.
288 pages / Reviewed by Jo Clarke, teacher
Suggested Reading Age 9+
Other titles