The Great (Food) Bank Heist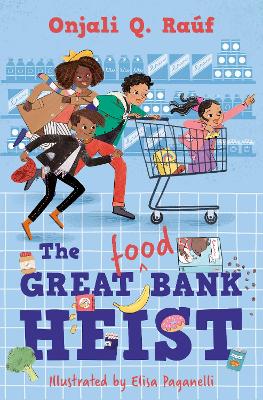 By Author / Illustrator
Onjali Q. Rauf, Elisa Paganelli
Genre
Real life
Age range(s)
9+
Publisher
Barrington Stoke Ltd
ISBN
9781781129623
Format
Paperback / softback
Published
01-07-2021
Synopsis
Written with great empathy and Rauf's trademark humour, The Great (Food) Bank Heist is a moving story that gives a child's-eye view of the increasing problem of food poverty.
On Thursdays, Nelson, Ashley and Mum head out to the bank. But not just any old bank - the food bank. With its shining tins and packets of food stacked from floor to ceiling, Nelson thinks it's the best kind of bank there is. But there's a thief in town, and the shelves of the food bank are getting emptier each day, leaving people hungrier than ever. For the sake of his family and everyone else's, Nelson needs to make them stop. But can he and his friends really be the ones to catch the bank robber?
Reviews
Jennifer
A thoughtful, warm adventure story with an inspiring and meaningful message within. The Great Food Bank Heist takes the very relevant and often uncomfortable issues of food banks and child poverty and highlights then through the fictional family of Nelson, Ashley and their mum.
Mum works hard as a nurse but her social care wages are not a living wage for the family. The local food bank is a vital means of support and so a favourite place to visit. Rauf adds in the element of adventure and mystery to her heart warming and hugely empathetic story by creating a drama when the food bank itself becomes mysteriously short of food and food thieves are suspected!  Nelson and friends Krish and Harriet are determined to become super sleuths, solve the disappearing food puzzle and stop the injustice of those already in need facing additional suffering.
This short Barrington Stoke story is so accessible, fresh and engaging. The author is skilled and gentle at creating humour and poignancy within the heartbreak of the themes of the book. Nelson describes the imaginative games mum invents with their food bank options each week - playing at MasterChef with unlikely combinations of ingredients, the Menu Makers game that little sister Ashley loves to draw and and colour, and the achingly sad "Transformers game" where the family have to imagine that meals they really dislike the most are, in fact, something else altogether and are just delicious. It is impossible to read about the family's coping strategies without a real lump in the throat and genuine sense of sadness.
From the very first line of the book, Rauf doesn't shy away at all from the harsh reality of the hunger of the children - the physical pain, tiredness and embarrassment that they endure nearly every day. Illustrations by Elisa Paganelli make the empty fridges and scarce meals vividly clear. It is an extremely powerful story but contains a huge amount of hope and positivity too. Nelson's best friends have completely different lives (with sweets aplenty and the latest, expensive trainers) but the friendship of the trio is tightly bonded and Krish and Harriet are just as furious and determined to find the food bank thieves as Nelson is.
There is a strong moral and pro active ethos to the story with acknowledgements to Marcus Rashford and his food poverty campaign. A percentage of sales of the book also go to food bank charities and there are additional facts and information on why we have food banks with links to organisations that need support.
This is an enjoyable, thought provoking story that I think definitely needs to be heard and shared in school as it opens up some important discussion points for our younger readers.
104 pages / Ages 8+ / Reviewed by Jennifer Caddick, teacher
Suggested Reading Age 7+
Other titles