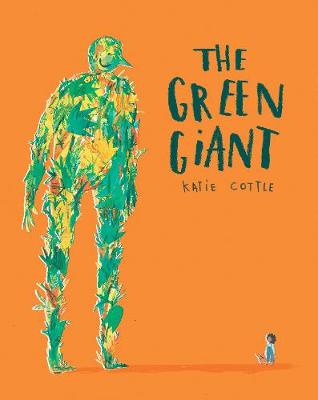 By Author / Illustrator
Katie Cottle
Genre
Environment
Age range(s)
5+
Publisher
Pavilion Books
ISBN
9781843654001
Format
Paperback / softback
Published
07-03-2019
Synopsis
You've met the Iron Giant, the Big Friendly Giant and the Selfish Giant. Now meet the Green Giant!  A young girl, Bea, and her dog, Iris, are staying with her grandad in the country. Bea is bored, but Iris's adventures lead them to the small and rusty old greenhouse next door.  Inside the greenhouse, Bea finds... a giant. A giant made entirely of plants and greenery. Bea is scared, but the giant reassures her and explains that he has escaped from the grey city.  Bea and the giant become friends, but can they do anything to make the grey city, and the world, a greener place?
A brilliant new picture book that highlights our concern for the environment, greening our cities, guerrilla gardening and making the world a better place.  Katie Cottle was the winner of the Batsford Prize 2017 and is a rising star in the picture book world.
Reviews
Sharon
The Green Giant is not only a book about improving the environment but also describes why some people move from one part of the world to another. Bea Green (the main character) goes to visit her grandad in the countryside for a short holiday and while she is there she discovers a green giant in the greenhouse who teaches her the importance of growing things.
Bea spends a lovely time spending time with her green friends and when she returns to the smog-filled city she misses the fresh air and her green friends. That's when she discovers she can grow plants in the city. She stars small, but then after time more and more green grows, eventually making the city a nicer place to be.
My children liked the bright front cover of this book, they said that the orange made the green of the giant zing off the page. They thought that the book was probably aimed at KS1 children, but the recognised that the message of the book was important for older children to know as well. There is some great scientific vocabulary for KS1 children to explore.
32 pages / Reviewed by Sharon Porter
Suggested Reading Age 5+
Other titles