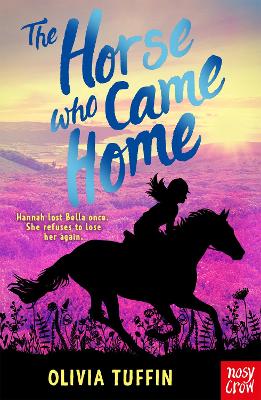 By Author / Illustrator
Olivia Tuffin
Genre
Animals
Age range(s)
9+
Publisher
Nosy Crow Ltd
ISBN
9781839946431
Format
Paperback / softback
Published
06-07-2023
Synopsis
Heartbreak, betrayal, and a breathtakingly daring rescue: Olivia Tuffin's fresh and thrilling novel about a girl's fight for justice at her family's stables will have 9+ readers gripped.
Hannah's dad, a former Olympic show jumper, runs a highly respected stables where they buy, train and sell ponies on for huge sums of money. The whole family helps, especially Hannah's older sister, Millie - a social media star on the rise. But when Hannah rescues Bella, a beautiful Connemara pony, and begins to piece together her tragic history, she discovers that not everything at Heartwood stables is as perfect as it seems.
Love of ponies, or loyalty to family? Now that Hannah knows the truth, she faces an impossible choice.
Olivia Tuffin, much loved author of The Palomino Pony and A Pony Called Secret series, breaks new ground in this dramatic story for older readers.
Find out more in this video of author Olivia Tuffin
Reviews
Janet
The Boland Yard sells high-end ponies, mainly for show jumping.  Hannah, 13, is the younger of two daughters; her sister Millie has a huge social media following, whereas Hannah just loves working with ponies.  But Hannah is unhappy that Wolfie, the latest pony she has been riding, has been sold - like Wispa before her.  The yard groom Ashley is a surly man whom Hannah distrusts and, when Tolly refuses to jump for him and then is driven away in an unmarked van, she finds out she was right to feel that way.   On her way to a music festival, Hannah rescues a Connemara pony and things begin to fall into place.   
The Horse Who Came Home is a fast-paced and exciting story with depth, and Hannah is a likeable heroine.  There are signs that her parents' business is in trouble financially,  and her sister Millie is caught up in her social media activities, but in the end Millie does realise that things are wrong and helps to rescue Bella, painting a realistic picture of sibling relationship. 
Hannah's friends and her trust of Cara provide a good view of friendship not necessarily linked by a love of horses, while with Vanessa, a retired dressage rider, and her treatment of her unwell horse in the story, shows a darker side to the equine world.  Girls who love pony stories aged 10+  will enjoy this. 
224 pages / Reviewed by Janet Fisher, school librarian
Suggested Reading Age 9+
Hayley
The Horse Who Came Home is a heart-wrenching tale about one girl's drive to make amends and bring about justice for animals who have suffered mistreatment. Hannah is a 'Boland' and her family's name and reputation is paramount to their family business. The livery where Hannah lives trains and sells championship ponies. The business world is highly competitive and Hannah and her sister Millie have been brought up blinded by it. They are both highly accomplished riders who have a passion for horses. Hannah loves the ponies in the yard and often becomes emotionally attached to them, so when they leave, she is often heart-broken.
As the story unfolds, Hannah finds herself in a situation where her heart rules her head. With the help of her friends, she rescues a Connemara pony from an unknown dealer. But when she takes her new pony (Bella) home to the stables, something isn't quite right. The horse seems familiar and her return to the stables opens up secrets that change the way Hannah sees things. Hannah confides in her friends and together they are determined to discover the truth about Bella's tragic history. However, sacrifices have to be made in order to get to the truth and Hannah must choose between family reputation and justice.
I would not consider myself to be a horse lover, but I found reading this book intriguing, which just goes to show that reading can widen your interests. I found the storyline compelling and was immersed in the compassion shown by Hannah towards the ponies. Her character is loveable and clearly highlights her devotion to her animals. I love how she transitions from being naïve about the world of horse training to fully in control of how she wants to bring justice for her four-legged friends.
Children will find reading this book a pleasure and it would be an excellent class story that should be placed in every school library.
224 pages / Reviewed by Hayley Summerfield, teacher
Suggested Reading Age 9+
Other titles