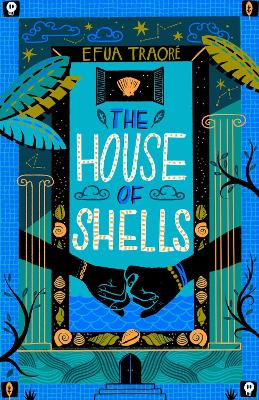 By Author / Illustrator
Efua Traore
Genre
Magical Realism
Age range(s)
9+
Publisher
Chicken House Ltd
ISBN
9781913696719
Format
Paperback / softback
Published
07-07-2022
Synopsis
From the critically acclaimed author of Children of the Quicksands - shortlisted for the Waterstones Children's Book Prize - comes a breathtaking magical adventure...  Kuki refuses to believe in the curse of the Abiku. Her destiny is not to die young!Her biggest problem right now is moving house and fitting in at her new school.  One evening while exploring, Kuki spies a driveway lined with giant palm trees. It leads to an abandoned beach house of shadows and scattered sea shells. And in the fading light, she meets a girl called Enilo.  They become friends - the best of friends.  Until Kuki makes a terrifying discovery...
The second novel by Times/Chicken House Competition-winning Efua Traoré, author of critically acclaimed Children of the Quicksands. A beautifully evoked middle-grade adventure set in the author's native Nigeria and drawing from rich Yoruba mythology. A story about the power of female friendship over fear and superstition.
See also: The Children of the Quicksands by Efua Traoré
Reviews
Jenny
There is a beautifully crafted sense of the supernatural in this intriguing MG adventure set in Nigeria. The story draws on fascinating Yoruba mythology and superstitions and tells the story of 12 year old Kuki, whose aunt's belief in the Yoruba spirits Abiku, risks her feeling cursed and doomed to an impending early death. At this moment, however ,what Kuki feels "doomed" by in life is her new and uncomfortable circumstances in daily life.
It is a time of some unwelcome transitions for Kuki . She is living in a new area, in a new house with a new stepfather. Her mother is heavily pregnant and soon there will be a new sibling, too. At her new school, Kuki is feeling friendless and completely vulnerable. Kuki has no time for her aunt's warnings, fears and protection charms when her modern current day to day life is already so overwhelming. When Kuki discovers an abandoned beach house nearby and meets a young girl called Enilo, she feels as if she finally has a connection with someone - a possible new friend, ally and confidante. Enilo seems to give Kuki a new sense of happiness and confidence, yet seems to be an unhappy figure herself. She is wary and nervous and appears and disappears in and out of Kuki's life like a shadow; she refuses to meet any of Kuki's family quite vehemently and is clearly keeping some dark secrets and thoughts close to her heart.
The House of Shells is a completely engrossing story. Author Efua Traoré brilliantly intertwines the captivating old cultures and myths of Nigeria with the very present day and relatable daily issues that many MG readers will identify with and be experiencing themselves. Though something unusual and unsettling lies behind Enilo and Kuki's new friendship, it still has all the recognizable components of a young girl's search for a loyal friend and the reader is charmed by the bond that quickly forms between them. The narrative evokes fantastic visual images of its landscapes and settings.
The house of shells has an increasing air of malevolence surrounding it and the true threat of the Abiku is revealed in some very spine tingling and chilling scenes as Kuki moves closer to uncovering this (previously dismissed and disbelieved) hidden world and its dangers. The House of Shells is a powerful, bold and richly entertaining story.
304 pages / Reviewed by Jennifer Caddick, teacher
Suggested Reading Age 9+
Other titles