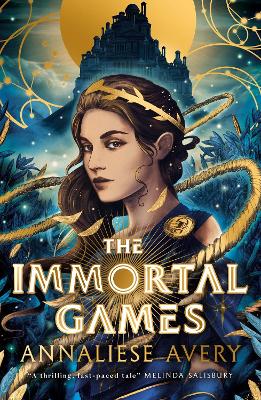 By Author / Illustrator
Annaliese Avery
Genre
Myths & Legends
Age range(s)
11+
Publisher
Scholastic
ISBN
9780702306099
Format
Paperback / softback
Published
11-05-2023
Synopsis
An explosive romantasy YA, perfect for fans of The Hunger Games and Lore. Every Lunar Eclipse signifies the beginning of The Immortal Games: an epic set of games played by the Gods of Olympus, with randomly-selected humans as their Tokens. The stakes are high; the Gods covet entertainment and glory above all else, for the Tokens, it's about survival.
17-year-old Ara wants revenge. Revenge on the Gods for allowing her older sister to die in the Games. She's determined to be selected as a Token and find a weapon powerful enough to kill a God. But when she's plucked from the clutches of death by Hades, God of the Underworld, the odds are stacked against her. Hades is the outcast of the Gods, and the only one who has never won the games. But he soon realises that Ara does not fear death, just as she does not fear him, and when a wager with Zeus and Poseidon puts both their futures at stake, the games take on a new meaning. With each challenge, the games become more brutal. Can Ara put aside her rage and survive?
For fans of Circe, Ariadne and The Silence of the Girls. Perfectly plotted Greek Mythology and Astrology makes this the perfect teen and YA for BookTok. Cover stunningly illustrated by Instagram star, Tom Roberts.  "A thrilling, fast-paced, and brutal tale of revenge, loyalty, courage, and friendship. Avery has created a world that is merciless in its cruelty and trickery, and a cast of gods who revel in causing chaos, but Ara, a heroine full of heart, is more than a match for even the wickedest of them." - Melinda Salisbury, bestselling author of Her Dark Wings
Reviews
Clare
The Immortal Games is a riveting tale of rivalry and revenge. The titular games are a form of entertainment for the Gods of Olympus - the teenage participants merely pawns in their epic power struggle. Ara and her childhood friend Theron are determined to be selected as 'tokens' for the Games - each with their own implacable reasons for taking part. Ara means to avenge the death of her sister, Estella, and Theron sees it as the culmination of his personal destiny. Pitted with a group of other teenagers, they must win to stay alive. Ominously pared with the God of the Underworld, Hades, Ara begins to realise her rage against the Gods could be her undoing.
Whilst the idea of this story may be familiar, setting the book in Ancient Greece and in the realm of the all-powerful Gods adds a new element of peril. The young tokens must decide whether to trust each other and work together, or risk forging their own path. Blinded by anger, Ara can be her own worst enemy, but an unexpected romance lets the reader see beyond her single-minded rage. She is a towering heroine - fearless and determined and wise enough to pick her friends carefully.
Fast-paced and superbly plotted, this is a roller-coaster of a ride through Greek mythology and astrology, with elements of romance, fantasy and adventure. A breath-taking quest novel that looks like the start of a thrilling series. Recommended for ages 12+.
336 pages / Reviewed by Clare Wilkins, school librarian.
Suggested Reading Age 11+
Other titles