The Incredible Talking Machine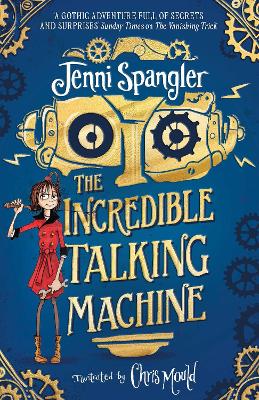 By Author / Illustrator
Jenni Spangler, Chris Mould
Genre
Magical Realism
Age range(s)
9+
Publisher
Simon & Schuster Ltd
ISBN
9781471190391
Format
Paperback / softback
Published
24-06-2021
Synopsis
Pull back the curtain and enter a world where mystery and magic take centre stage in a gloriously gothic adventure from Jenni Spangler, illustrated by Chris Mould.  

Twelve-year-old Tig works at Manchester's Theatre Royale, cleaning, selling tickets and doing anything else that is asked of her by her tyrannical boss, Mr Snell. Tig will do whatever it takes to get closer to her dream - to become a Stage Manager and spend her days inventing new ways to imagine and build the intricate machinery and props that bring the exciting productions to life!  But when a strange new act - a talking machine - arrives at the Theatre Royale, it moves and behaves in a way that Tig just can't work out. It's as though it's alive somehow . . . And when the machine appears to be hiding a dangerous secret, Tig must race against time to solve the mystery, before everything and everyone she cares about is lost forever.

A Victorian adventure full of ghost, gadgets and shifty villains, from the critically-acclaimed Jenni Spangler, who's debut The Vanishing Trick, was selected as Waterstones Book of the Month.
Q&A with author Jenni Spangler
Reviews
Linda
The Incredible Talking Machine has all the elements of a truly fantastic children's book: it has great characters (protagonists to root for and villains to detest), it's entirely unpredictable, it's the perfect level of creepy and it has the undercurrent of an unsolved mystery. I thoroughly enjoyed it and found myself hungry to read the next chapter to see where Jenny Spangler would take me next.
The story follows Tig, a 12-year-old who lives and works at a theatre in Manchester. When a strange new act arrives at the Theatre Royale, unusual and mysterious things begin to happen. Can Tig race against time to solve the mystery or will she lose everyone she loves forever?
The Incredible Talking Machine is a glorious gothic mystery filled with spooky twists and dark turns. It would be perfect for Year 5 upwards and I fully intend to share it with my class.
288 pages / Reviewed by Linda Canning, teacher
Suggested Reading Age 9+
Other titles