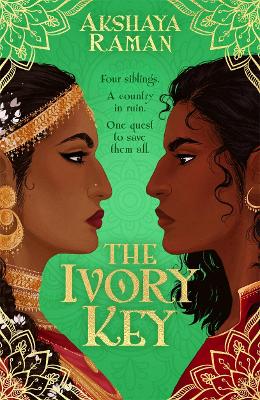 By Author / Illustrator
Akshaya Raman
Genre
Fantasy
Age range(s)
14+
Publisher
Hot Key Books
ISBN
9781471410734
Format
Paperback / softback
Published
04-01-2022
Synopsis
Four siblings. A country in ruin. One quest to save them all.  Vira is desperate to get out of her mother's shadow and establish her legacy as a revered queen of Ashoka. But with the country's only quarry running out of magic - a precious resource that has kept Ashoka safe from conflict - she can barely protect her citizens from the looming threat of war. And if her enemies discover this, they'll stop at nothing to seize the last of the magic.
Vira's only hope is to find a mysterious object of legend: the Ivory Key, rumoured to unlock a new source of magic. But in order to infiltrate enemy territory and retrieve it, she must reunite with her siblings, torn apart by broken relationships and the different paths their lives have taken. Each of them has something to gain from finding the Ivory Key - and even more to lose if they fail. Ronak plans to sell it to the highest bidder in exchange for escape from his impending political and unwanted marriage. Kaleb, falsely accused of assassinating the former maharani, needs it to clear his name. And Riya, the runaway sibling who cut all family ties, wants the Key to prove her loyalty to the rebels who took her in.
They must work together to survive the treacherous journey. But with each sibling harbouring secrets and their own conflicting agendas, the very thing that brought them together could tear apart their family - and their world - for good.
First in a duology from an incredible new talent, this Indian-inspired fantasy debut is epic, fierce and magnetically addictive, taking you on a thrilling journey where magic, a prized resource, is the only thing between peace and war.
Reviews
Ruth
The Ivory Key is the first novel in a two part book series by Akshaya Raman. It is a fantasy adventure set in the magical land of Ashoka. But the future of the kingdom is in jeopardy, as their source of the magic that protects and sustains the kingdom is running low. Four separated siblings need to work together to discover the key to a fresh source, but old issues which forced them apart have first to be addressed.
The story is complex and richly detailed and the characters are interesting and well developed. Themes include diversity, heritage and mystery. The reader becomes invested in discovering more about why the main characters developed this degree of sibling rivalry and, without spoiling the story, you are left anticipating the next instalment and wondering where the plot will go in Ashaya's future book.
Of particular note is the book's attractive cover, which would make it extremely desirable to a librarian for use in a display or as a forward facing book on a shelf. The depiction of the siblings is appealing with beautiful profile illustrations by Jade Deo. Usually I prefer to imagine characters myself but these provided excellent faces for my imagination! The use of strong colours and decoration added to the cover's appeal. I would recommend this book to upper school students.
384 pages / Reviewed by Ruth Cornish, school librarian
Suggested Reading Age 14+
Other titles