The Last Gate of the Emperor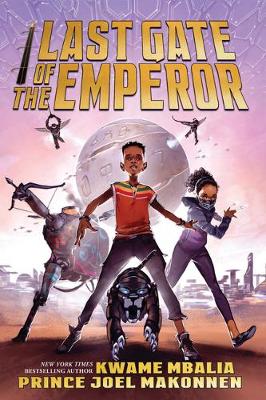 By Author / Illustrator
Kwame Mbalia
Genre
Fantasy
Age range(s)
9+
Publisher
Scholastic
ISBN
9780702307089
Format
Paperback / softback
Published
06-05-2021
Synopsis
From Kwame Mbalia and Prince Joel David Makonnen comes an action-packed Afrofuturist adventure about a mythical Ethiopian empire. Sci-fi and fantasy combine in this epic journey to the stars. Yared Heywat lives an isolated life in Addis Prime - a hardscrabble city with rundown tech, lots of rules, and not much to do. His worrywart Uncle Moti and bionic lioness Besa are his only family... and his only friends. Often in trouble for his thrill-seeking antics and smart mouth, those same qualities make Yared a star player of the underground augmented reality game, The Hunt for Kaleb's Obelisk. But when a change in the game rules prompts Yared to log in with his real name, it triggers an attack that rocks the city. In the chaos, Uncle Moti disappears. Suddenly, all the stories Yared's uncle told him as a young boy are coming to life, of kingdoms in the sky and city-razing monsters. And somehow Yared is at the centre of them. Together with Besa and the Ibis - a game rival turned reluctant ally - Yared must search for his uncle... and answers to his place in a forgotten, galaxy-spanning war.
Reviews
Jane
I enjoyed the humour and imagined conversations between Yared (the main male character) and The Iris (his female rival and soon-to-be friend). I also enjoyed the surprises round every corner, the characters being almost as multi-dimensional as the setting, with its HKO (Hunt for Kaleb's Obelisk) virtual-world-within-a-world.
If I lost my way a bit, or struggled to keep up with the break-neck pace of the plot, it's perhaps to be expected. 12-year-old Yared himself doesn't seem to know what's going on half the time or who to trust. Uncle Moti is, apparently, a traitor, and loyal bionic cat, Besa, a Guardian. His own instincts - identity even - are under fire. Also under fire, from enemy Werari forces led by Captain Ascar, is Addis Prime, Yared's home - its inhabitants beyond the protective reach of the powers-that-be in their true home, the Kingdom of Axum.
This is a tale that will enthral gamers who might imagine, with envy, being vindicated for spending so much time on-screen. After all, Yared's skills in the HKO arena are game-changing when it comes to engaging with the real enemy, as are The Iris's skill at piloting a skysail at top speed while under fire.
This is a fast-paced fantasy (recommended for readers of 10 upwards), but reading the Afterword and Acknowledgments frames the book in a real-life context and gives readers yet another lens through which to view the drama: the lens of history and pride in one's heritage. (Joel Makonen, one of the authors, really is a Prince - the great-grandson of the late Ethiopian Emperor Haile Selassie I.)
304 pages / Ages 10+ / Reviewed by Jane Rew, school librarian
Suggested Reading Age 9+
Other titles