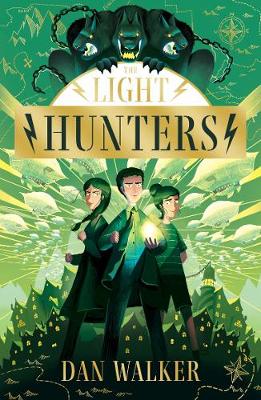 By Author / Illustrator
Dan Walker, Jr.
Genre
Fantasy
Age range(s)
9+
Publisher
UCLan Publishing
ISBN
9781912979103
Format
Paperback / softback
Published
16-01-2020
Synopsis
The first in a new electrifying Middle Grade series from author of SKY THIEVES, Dan Walker.  "You ask me what Light is, Lux? Light is everything. Every single thing. The very fabric of our world is made up of this force - people, trees, the chair I am sitting on, this pen I am writing with. Few can access this Light, control it. You are one."   Huge Monsters roam the land, smashing towns to splinters. For centuries, energy-wielding Light Hunters battled the creatures, rescuing the townspeople of Daven from a terrible fate. Then, a single, disastrous mistake turned the people against Light. Now, this powerful and ancient force is mostly gone, all but a memory. 
Lux Dowd lives in a clock repair shop with his ill Grandpa and the old man's live-in carer, Miss Hart. Although he might seem to be a normal 12-year-old boy, Lux has a secret: not only can he wield Light, he might be the finest Light-healer the world has ever seen. But when Lux uses his power to save his best friend Maya, his Light draws a strange, shadowy figure to town, one who would use Lux's powers for evil.  He is rescued from the stranger's clutches by Miss Hart, who reveals to him that she is one of the last of the undercover Light Hunters tasked with watching over Lux.
After a dangerous air ship journey to the Light Hunter HQ, Lux begins to learn the Light Hunter ways and form a bond with his new squad of apprentice hunters. But before he can settle, the Hunters receive a warning about an upcoming Monster attack near Lux's hometown. The Monster that destroyed his family is back.  Lux and his new friends find themselves in a race against time to locate the Monster and stop it before it can destroy the town. But is the Monster the real terror, or is there a greater danger lurking in the shadows, waiting for its moment to strike?
Reviews
Nathan
This book was absolutely amazing! I read this in just two sittings as I quite literally couldn't put it down. The Light Hunters by Dan Walker is an amazing fantasy story that is action packed with adventure and so creatively written. The story cleverly combines real life experiences and emotions with the far-out world of monsters and Light Hunters. The action just gets better and better with every turn of a page!
The story begins with the very relatable character, Lux, who appears to be a 'normal' 12-year-old boy stuck in the monotony of life, and repeated monster drills with his teachers. However, the unique power and secrets Lux holds are truly astonishing. With help from his Grandad, Lux has the power to throw light and throw light possibly better than anyone has witnessed for years, or ever! Lux is quickly selected from the world he knows to embark on a new exciting journey alongside his friend, Maya. A new world of wizards, Light Hunters and mythical monsters awaits, but will Lux succeed in his ultimate goal?
The sprinkled, descriptive language and vocabulary throughout effortlessly transports the reader into the fantastical world of Dawnstar. This story provides the perfect model for children writing great descriptions and capturing the reader. The Light Hunters also excellently intertwines real-life emotional experiences.
I would highly recommend this story for any child in upper key stage two (9 years +) and for teachers looking to immerse the children in a good quality fantasy story with lots of action. Although it's marketed for children, I will personally be on the lookout for the next one in the series. This is going straight on the shelf in my classroom as a must read! I know the children in my class will thoroughly enjoy it! I hope this will be the start of a long series! Thanks Dan.
304 pages / Reviewed by Nathan Cox, teacher
Suggested Reading Age 9+
Other titles