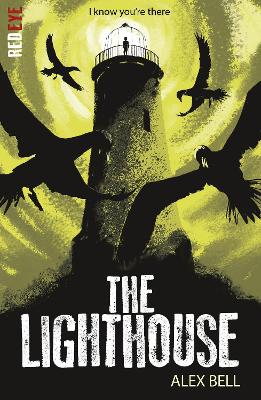 By Author / Illustrator
Alex Bell
Genre
Horror
Age range(s)
11+
Publisher
Little Tiger Press Group
ISBN
9781788951517
Format
Paperback / softback
Published
29-09-2022
Synopsis
On Bird Rock, gannets circle and thick mist surrounds the lighthouse at its centre, hiding the secrets of a tragic past within ...  From the second they set foot on the island to join their dad and his new family, Jess and Rosie feel that something's wrong. Nightmares haunt their dreams and there seems to be someone, or something, else with them in the lighthouse - their home for the summer.  Counting down the days until they can leave, Jess and Rosie decide to investigate. But when Rosie disappears, the countdown takes on a new meaning. Especially when no one but Jess remembers Rosie at all...  Alex Bell's chilling novel is part of the Red Eye series, perfect for fans of Juno Dawson's SAY HER NAME and Kat Ellis's HARROW LAKE.
Reviews
Emelia
A twisted tale of a remote island and its lighthouse. Rosie and Jess are spending two weeks with their dad and his new family on the island during the school break. It's the last thing Jess wants to do but if her sister is happy and wants to go, so will she. Whats the worse that could happen?.....
From before they even step foot on the island they become caught in its mystery. Rosie is excited and wants to win a competition by capturing a truly haunted picture to send in to a magazine to win £1000 cash prize. Jess doesn't believe in ghosts - but the trip to The Lighthouse on Bird Rock is sure to change her mind.
The Lighthouse is a gripping read; I couldn't stop once I started. The author has made it an easy, fluid read with details that allow you to really imagine the characters. There are one or two choice words that some may feel unsuitable for younger readers but if you like a ghost story with a twist and turn then this is definitely one to have on your list. All in all, a great read.
352 pages / Reviewed by Emelia Helliwell, school librarian
Suggested Reading Age 11+
Other titles